September 2, 2019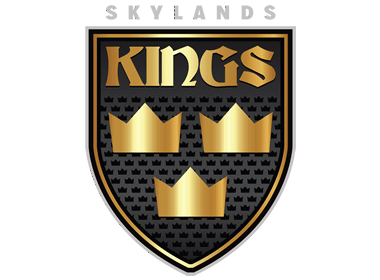 The 3View series will feature an in-depth look into all NA3HL teams in preparation for the 2019-20 season, with two teams being highlighted daily, leading all the way up until the start of the regular season. 3View goes in-depth into each NA3HL team and will include interviews with all the head coaches in the NA3HL, as they provide fans with their expectations and outlook for the 2019-20 season, including taking a look at their potential roster and their strengths as a team for the upcoming season. It will also take a look back on the 2018-19 season and how each team fared and what they accomplished. Best of all, 3View will provide the fans of the NA3HL with an inside look at their favorite team and what to expect.
Skylands Kings
2018-19 Record: 20-25-2, 42 pts (3rd in the Northeast Division)
2019 Playoffs: Lost in Division Semi-Finals
Head Coach: Adam Mitchell
2019-20 Division: Northeast
Since their inaugural NA3HL run in 2016-17, the Kings have steadily improved each season, adding to their win totals and qualifying for playoff hockey in both campaigns. Now, it's about taking lessons learned in last season's division semi-final loss and applying them throughout the regular season, instilling good habits and hopefully rising to the top of what looks to be a competitive division.
"We are looking to build off of last season. We took a big step in the right direction last season and are looking to improve upon that and be above .500 this year and be one of the top, if not the top contender in the Northeast Division," said Head Coach Adam Mitchell.
This year's Skylands squad will boast plenty of opportunity for veterans and rookies alike. The Kings committed an impressive six players to college last season, and replacing those minutes will be no easy task. But Mitchell says the returning group is up to the task of taking their team to the next level, and the homegrown new talent looks ready to roll into junior hockey.
"We have a core group of guys coming back this year in Trevor Christopher, Justin Hiler and Dylan Dinzik on the back end, James Clarke, Khole Hibbert are returning forwards that can really make some noise this year. We have all new goaltending coming in this year that we are excited about, and we have a handful of young local forwards that are joining us also (Tommy Hoffmann and Joseph Arnold played for the Skylands Kings youth team and are now joining the NA3HL team)," he said.
But regardless of who steps up individually, Skylands will seek out more speed, structure and three-zone play from their game as a team this year. A veteran group on the blue line should lend plenty of poise to the Kings' transition play.
"Defense. I am looking to have a very strong and experience D-core this year with returning players and some new additions. Goaltending is always huge and we are looking to be strong in our zone and get the puck up the ice quickly. Most importantly I want our guys to focus on speed and decision making. The league and the game in general is just getting faster. We need to push the pace," said Mitchell.
The Kings' aforementioned six commitments in 2018-19 were no coincidence — Mitchell and his staff take pride in developing and advancing their players. By taking advantage of league events such as the NA3HL Showcase in December and newly formed East Showcase in October, Kings players will get to put on a show for scouts across the country, literally.
"This year we are attending the Eastern Showcase in New England as well as the (NA3HL) Showcase in (Blaine, MN). We want to offer our players the most exposure possible. (We will have) individual meetings with all my players to establish connections with higher level junior and college coaches throughout the season. We are always building relationships with coaches as we will play on the road in areas where NAHL teams play and Colleges are located. This past year or Captain Steven Ford committing to SUNY Morrisville is a testament to that exposure and dedication to promoting players. Along with Ford, we have had multiple other players from last season commit ACHA DI, DII and DIII and they have all been direct results of exposure and connecting with coaches to get them to watch our players," said Mitchell.
Additionally, expect to see Skylands skaters pitching in around the area, both on the ice and off. Part of developing players is helping them grow and mature in a personal sense, and community service is a great way to do just that.
"All of our players work with one or two of our youth teams once or twice a week as volunteers as well as work with our Try Hockey for Free and Hockey Head Start. Also our players volunteer a few of their hours a month to our local grocery store where they help bag groceries and get acquainted with the local community and pass out a few game schedules so that they know when we have home games," said Mitchell.
With their steady track record of annual improvement, the Kings have the tools to take another step forward in 2019-20.
Next up: St. Louis Jr. Blues