Saturday Scores: North Stars win thrilling season debut
September 8, 2019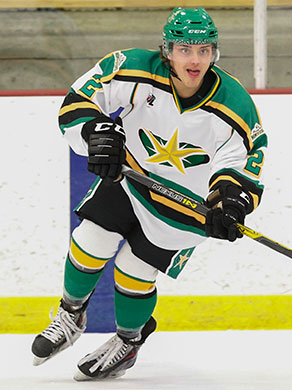 Willmar 4 @ Breezy Point 5 (SO) – In what was a back and forth game for Willmar and Breezy Point Saturday night, a winner could not be decided in regulation, and a shootout was required to crown the victor. The North Stars ended up clinching the win over the WarHawks 5-4. Although coming up short in the shootout, Owen Thomas had an outstanding performance for the WarHawks, and kept his team in the game by scoring a hat trick in the last two periods. Dylan Svoboda also lit the lamp for the WarHawks with their first goal of the 2019-20 season. As for the North Stars, players Braeden Zaste, Jordan Linder, Brady Swanstrom, and Kai Kingery all netted goals in regulation to force an eventual shootout. In the shootout, Willmar fell short with one goal by Ethan McDonald, while Breezy Point's players Braeden Zaste and Brady Swanstrom both found the back of the net, leading the North Stars to victory.
Long Beach 2 @ Elmira 8 – After two quick goals, Elmira was off to a good start over Long Beach. The Jr. Soaring Eagles went onto net one more goal in the first period and totaled 8 goals by game's end, winning 8-2. Thomas Liebold led Elmira to their win Saturday night with a hat trick and two assists. William Darling also had a big night by finding twine twice, while Zac Bell, Liam Murphy, and Jayvon Fogelgren also netted goals for the Jr. Soaring Eagles. In the third period, Chris Wracker and Zachary Ostowski found the back of the net for the Sharks and shortened Elmira's lead to six.
Milwaukee 0 @ Peoria 4 – Peoria shared the wealth on Saturday with four players netting goals in their 4-0 win over Milwaukee. Dillan Bentley led the Mustang's with a point on every goal of the game, finishing with three assists and a goal of his own. Tristan Trudel had a goal and two assists, while Trevor Begley popped in the Mustang's second period goal. Zachary Eddington sealed the deal with a late third period goal, adding to his two assists already on the scoresheet as well. Jaden Gardner recorded 15 saves for the shutout, while Joey Greilich faced down 50 of 54 for Milwaukee.