North Iowa forward Saltness called up to NAHL
September 19, 2019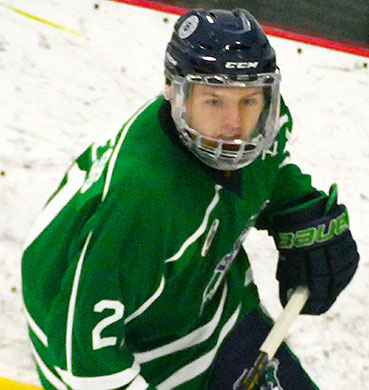 The North Iowa Bulls, proud members of the North American 3 Hockey League, are pleased to announce that forward Dalton Saltness has earned a call-up to the North American Hockey League's Bismarck Bobcats ahead of this week's NAHL Showcase in Blaine, Minnesota.
Saltness has been on the radars of multiple NAHL teams recently. The Forest Lake, Minnesota native was tendered by the NAHL's Minnesota Wilderness over the Christmas break last season, but earned his first junior ice time this past weekend with the Bulls.
All it took was the opportunity to prove himself in a junior game, and Saltness took care of that opportunity quickly. He scored a goal in each of the Bulls' games last week against the Breezy Point North Stars, totaling five points for the series. He highlighted Friday's game with back-to-back assists on the same shift at the end of the first period, and followed that up by getting the Bulls on the board in the second period of Saturday's 4-3 come-from-behind win.
The former Forest Lake High School standout wrapped up his prep career with a big season last year, posting 52 points in just 23 games. He was one of only 19 high school players from across the state of Minnesota to post 30 or more goals. He will now get a chance to contribute for a Bobcats team that narrowly missed home-ice advantage in the first round of last year's Robertson Cup Central Division playoffs.
By appearing in a game at the NAHL Showcase, Saltness would become one of more than 30 Bulls players to appear at the Tier II level after appearing in a North Iowa uniform. Three of those players are currently on NCAA Division I rosters, and several others are in professional hockey leagues across the globe.
The North Iowa Bulls congratulate Dalton Saltness on an outstanding start to his junior hockey career, and wish him all success in his upcoming opportunity with the Bismarck Bobcats.