Saturday Scores: Bozeman stays undefeated with sweep
September 29, 2019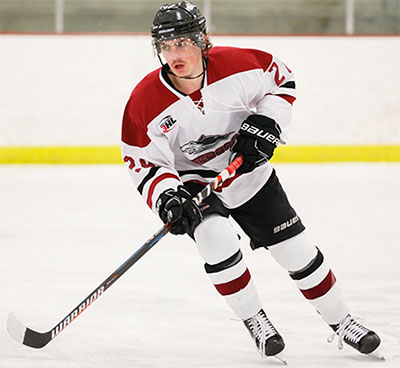 Bozeman 2 @ Yellowstone 1 - Andrew Bertolini lit the lamp with just over three minutes to play to push the Icedogs to a narrow 2-1 win over the Quake on Saturday. Duncan McGarrah got the scoring started for Bozeman in the second period, before Will Yates equalized for Yellowstone fewer than 30 seconds later. Domagoj Troha finished with 20 saves in the win, while Michael Allman stopped 33 in the loss.
Maine 0 @ Northeast 7 - Stephen Gerbis and Carson Asper each scored twice to pace a 7-0 Generals rout of the Wild on Saturday. Jeffrey Sidoit, Kolye Bankauskas and Nicholas Wracker also lit the lamp, as Justin Simmons took a 23-save shutout victory for Northeast. Matt Beensterboer suffered the loss despite 47 saves for Maine.
Danbury 2 @ NE Stars 6 - Derek Flynn's hat trick and five unanswered goals guided the Stars to a 6-2 win over Danbury at home. Rounding out the Stars' attack, Anthony Viola, Jon Natale and Michael Lempiainen potted pucks in the win, while Matt Marini made 33 saves. Danbury received goals from Liam Conway and Nate Mastrony, as Alex Fernandes turned aside 26 shots.
Elmira 6 @ NE Knights 4 - A pair of hat-trick performances by Liam Murphy and Thomas Liebold carred Elmira through a back-and-forth affair to a 6-4 win over the Knights on Saturday. Andrew Palmiter led New England with two goals, with Chase Lapworth and Tyler Pimental also scoring. Andrew Engel's 19 saves earned the win, while Patrick Gibbin suffered a tough luck loss despite 36 saves in the Knights' cage.
L/A 6 @ Skylands 3 - Khole Hibbert put Skylands up early, but the Nordiques roared back to ultimately snatch a 6-3 win at the hands of the Kings on home ice. Joe Clark, Will Fletcher, Peyton Hughes, Bradley McMains, Sergei Anisimov and Sam Frechette led the comeback, outpacing two more Skylands strikes from James Clarke. Nick Beck's 32 saves nabbed the win, while Alex Allison stonewalled 51 in defeat.
Mid Cities 4 @ TX Roadrunners 0 - Kim Kenton put on a show with a stellar 46 saves, shutting out the Roadrunners as his Stars teammates potted a quartet on Saturday. RJ Muckensturm paced the offense, with Hunter Leonhard and Gibson Duhe also posting goals. Cole Garver put in a strong shift of his own in the Texas cage, with 61 saves on the night.
TX Brahmas 4 @ Atlanta 2 - Leevi Selanne and Michael Thomas Jr. each lit the lamp in the final frame to help the Brahmas break a 2-2 deadlock and knock off the Capitals 4-2 on Saturday. Richard Indermill and Matej Palfy also struck for Texas, while Will Boyer and David Helpap posted Atlanta's goals. Bryce Runyan turned aside 13 of 15 for the win, while Patrick Egdorf stopped 25 of 29 for Atlanta.
Peoria 2 @ St. Louis 4 - A balanced attack helped the Jr. Blues to a 4-2 win on Saturday, as four different scorers hit the back of the net and netminder Brett Tome stopped 25 shots. Colin Stewart, Van Kraemer, Ethan McCormack and Jacob Wiethaupt paced the offense for St. Louis, while Ryan Hoover and George Giese bagged Peoria's markers. Jaden Gardner made 39 saves in the loss.
New Ulm 4 @ Breezy Point 3 (OT) - Late drama took center stage in this contest, as Jordan Linder's second goal of the game and a late tying effort from Alex Sorby helped Breezy Point force overtime, where Stanislav Danaev's heroics saved the game for New Ulm, who took a 4-3 win. Nate Looft, Joey Gimberlin and Tae Evans also scored for the Steel, who boasted 29 saves from Noah Friedrich. Conan Hayton stopped 54 in the loss.
North Iowa 3 @ Granite City 5 - It was another thrilling rollercoaster contest between the Lumberjacks and Bulls, this time with Granite City snagging a 5-3 victory at home. Daymin Dodge, Blake Spetz, Bailey Sommers, Jonah Jangula and Nicholas Cicchi lit the lamp behind North Iowa netminder Eli Bowers, who finished with 21 saves. Nate Johnson finished with 33 saves in the Lumberjacks' win, conceding only to Nico Aguilera (twice) and Ryan Hempel.
Willmar 3 @ Wausau 2 (OT) - Dylan Svoboda tied things up late in the third, and Marquez Ginger potted the OT winner as the Warhawks kept their good vibes rolling with a 3-2 win over the Riverwolves in Wausau on Saturday. Jake Santarelli also scored in the Willmar win, while Sam Baker and Robert Carlson bagged the Wausau goals. Jake Sumner stopped 48 pucks for the win, while Tyler Klatt's 68 saves fell just short for Wausau.
Rochester 5 @ Milwaukee 2 - The Grizzlies raced out to a 3-0 lead and never looked back, ultimately topping the Power 5-2 in Milwaukee. Matt DeRosa led with two goals, as Garrett Smith, Jesper Hofling and Lucas Newman rounded out the attack. Peyton Hart also starred for Rochester with three helpers on the night, as did the combination of Mathias Backstroma and Sean Guerin between the pipes with 30 shared saves. Joey Greilich backstopped Milwaukee with 44 saves, with Nathan Walker and Logan Drolet lighting the lamp.
Sheridan 1 @ Gillette 2 - Tyler Kaminski's early third period goal proved crucial, as the Wild held off a late Sheridan charge highlighted by a Jonathan Teasdale marker to take a 2-1 victory. Declan Young nabbed the other Gillette goal, while Shane Phillips posted 27 saves for the win. Zach Heam suffered the loss despite 39 saves in the Hawks' cage.
Butte 4 @ Missoula 7 - The Bruins rode two-goal efforts from Billy Lucas and Cayce Balk to a 7-4 win over Butte in a barnburner in Missoula. Michael Pazdernik, Chase Wilhelm and Austin Franck also scored for the Bruins in front of a 34-save performance from Seth Daniel in goal. Kyler Garsjo's pair of goals led the Cobras, joining Alexander Chronowski and Ty Stovin on the scoresheet. Colton Marcy backstopped Butte with 34 saves.
Helena 2 @ Great Falls 5 - Bryson Fletcher's big 2g, 2a night coupled with 24 saves from Viktor Wennberg pushed the Americans to a 5-2 win over the Bighorns on Saturday. Braydon Rachow, Brody Bryce and Jake Hayes filled in the remaining Great Falls goals. Helena received markers from Isaac Ellingson and Alexander Bailey in front of a shared 37 saves from Garrett Dryden and Bailey Bradford.