Saturday Scores: Generals continue Coastal climb with winning streak
October 13, 2019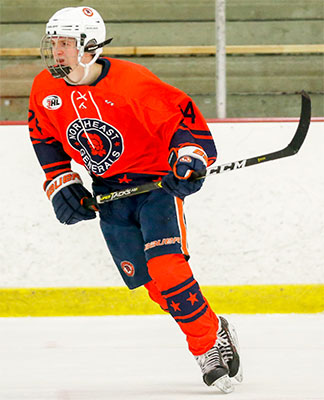 Northeast 8 @ NE Knights 4 - Kolye Bankauskas of Northeast and Nolan Murphy of the Knights posted dueling hat-tricks, but it was the Generals coming out on top with an 8-4 win on Saturday. Alexsey Kosterev, Preston Phelps, Colin Day, Carson Asper and Deacon More also lit the lamp for Northeast, while Tony Sheay netted the lone remaining goal for New England. John Driscoll made 31 saves for the win, while Zach Roncarati and Steven Barry combined for 52 stops in the Knights' net.
NE Stars 4 @ L/A 5 (OT) - Bradley McMains nabbed the OT winner for his second goal of the game to help the Nordiques escape with a narrow 5-4 win over the Stars at home. Peyton Hughes starred as well with a pair in the back of the net for L/A, and Daisuke Egusa rounded out the winning effort with a goal of his own. Meanwhile, Jaden Brignoni, Michael Lempiainen, Jon Natale and Henry Beguelin led a valiant Stars' attack with goals, as Matt Marini stopped 37 in net. But Jason St. Pierr took the win between the Nordiques' pipes with 21 saves on the night.
Atlanta 7 @ Mid Cities 6 (OT) - David Helpap posted a hat-trick, Gunner Moore bagged the OT winner and the Atlanta Capitals stole a 7-6 win over the Jr. Stars on Saturday. Goals from Sam Stepanek, CT Johnson and Will Boyer pushed the Capitals to victory, while Brandon Speights and RJ Muckensturm netted a pair apiece to fuel the Stars' strong start and impressive three-goal comeback in the third period. Hunter Leonhard and Zach Russel each scored once as well for Mid Cities. In net, Matthew Bolden and Noah Ping split the win for Atlanta with a total of 36 saves, while Noah Kinsinger and Nahuel Veyan put up a shared 42 for the Stars.
Danbury 7 @ Skylands 1 - A downright dominant effort from the Colonials, including a hat-trick from Brandon Cope and two goals from Kevin Remson, saw them knock off the Kings 7-1 on the road get back to .500 in the young campaign. Misha Mshar and Kolby Donovan also tallied in front of 32 saves from Shane O'Brien, while Khole Hibbert recorded Skylands' strike and Jacob King and Tyler Robertson put up a combined 48 saves in the Kings' cage.
Rochester 5 @ Peoria 3 - Peyton Hart scored twice in the third to help the Grizzlies erase a 3-2 deficit and take a 5-3 win over the Mustangs on the road. Joey Fodstad, Devin Hays and Porter Haney each found twine as well for Rochester in front of 16 saves by Shane Soderwall. Austin Keil, Jaycob Bland and Tristan Trudel provided the Peoria offense, with Jaden Gardner posting 28 saves in the loss.
Milwaukee 1 @ Coulee Region 4 - Four different skaters found twine to help the Chill top the Power 4-1 at home on Saturday. Marco Escobar fueled the offense with three assists on the night, while Jacob Best, Parker Severson, Flavien Fondadouze and Christopher Drews netted the goals. Devin Naidow stopped 20 pucks for the win, conceding only to Brady Rossbach of Milwaukee. Joey Greilich put up 32 saves in the Power net.
Wausau 1 @ St. Louis 7 - The Jr. Blues found offense throughout the lineup as they toppled the RiverWolves 7-1 on home ice on Saturday. Jacob Wiethaupt, Ethan McCormack, Joey Boccardi, Seamus Campbell, Lucas Gudz, Trey Walton and Joey Solimando each scored, while Alexander Kelsall netted for Wausau. Brett Tome made 21 saves for the win, while Tyler Klatt turned aside 34 for Wausau.
Alexandria 1 @ Granite City 10 - Daymin Dodge scored twice and Bailey Huber stopped 13 to highlight a dominant Lumberjacks showing in a 10-1 win over the Blizzard. Jack Helle, Nathan Green, Bailey Sommers, Jonah Jangula, Noah Bissett, Cody Dias, Josh Baker and Carson Simon also scored for Granite City, eclipsing Brandon Connett's marker for Alexandria. Bailey Rosch stopped 24 pucks in the Blizzard goal.
Breezy Point 0 @ North Iowa 9 - Dysen Skinner made 11 saves for the shutout and Matt Dahlseide led the attack as the Bulls made easy work of the North Stars en route to a 9-0 win on Saturday. Also scoring for North Iowa were Lucas Wahlin, Evan Sivets, Sean Sullivan, Sota Isogai, Zachary Simon and Harrison Stewart. Griffin Foster faced down 48 pucks in the Breezy Point net.
New Ulm 6 @ Willmar 1 - Joey Gimberlin's 2g, 2a night led the way as the Steel picked up a crucial 6-1 win over the Warhawks on Saturday. Keegan Bauman, Stanislav Danaev, Jacob Zowin and Parker Dorn rounded out the New Ulm goals, while Dylan Svoboda posted Willmar's only goal. Jack Raymond stood on his head in the New Ulm net with 41 saves, outmatching Gunnar Banks' 31 saves for the Warhawks.
TX Roadrunners 4 @ TX Brahmas 5 (OT) - The Roadrunners roared back into the contest with two third-period goals to force extra time, but Dylan Smith potted his second of the game just under a minute into the fourth frame to hand the Brahmas a 5-4 win at home. Andrue Trelstad, Matej Palfy and Findlay Wood also scored for the Brahmas, while Seth Payson, Riley Vertosnik, Trevor Borlace and Tadeas Vicha netted for the Roadrunners in a back-and-forth contest. Bryce Runyan made 22 saves for the victory, while Jaeger Reed's herculean 51 saves fell just short of the win for the Roadrunners.
Long Beach 3 @ Maine 4 - Nick Vasquez scored twice for Long Beach, but a balanced attack from the Wild saw them take a tight 4-3 win over the Sharks at home on Saturday. Luke Church, Matt Carson, Cam Duprey and Regan Wintle provided the Maine offense, as Tom Spero held down the fort between the pipes with an impressive 44 saves in the win. Nicholas Garcia potted the other Long Beach goal, while Daniel Sprage put on a show of his own in the Sharks' cage, facing down 57 of 61 shots in a tough-luck loss.
Butte 3 @ Sheridan 14 - Kolten Wright netted a stunning five goals, Justin Schwartzmiller bagged a hat-trick, Sandis Cook scored twice and the Hawks romped to a handy 14-3 win over the Cobras at home on Saturday. Luke Fundator backstopped the effort with 16 saves, as Peyton Kesselhon, Kamden Sengheiser, Alex Kesler and Jonathon Teasdale rounded out the potent attack. Ty Stovin, Robby Arver and Joe Erickson found twine for Butte, as busy netminders Aiden Waal and Sean O'Connor combined for a stout 85 saves on the night.
Helena 4 @ Great Falls 3 (OT) - Isaac Ellingson lit the lamp midway through overtime to help Rylan Labrie's stellar, 49-save effort in the Bighorns' net result in a 4-3 OT win over the Americans. Andrew Deskin, HIib Tkach and Johnny Baird also scored for Helena, as they outmatch Great Falls goals from Bryson Fletcher, Henry Chavez and Justin Ohnstad. Trevor Mellen made 33 saves in the Americans' cage.
Gillette 4 @ Missoula 2 - Jacob Kaminski scored twice and Anthony Seykora made 29 saves to push the Wild to a 4-2 win over the Bruins on Saturday. Ethan Becker and Caleb Sanborn also netted for Gillette, while Zane Cluphf posted both Missoula markers. Dylan Swanson made 28 saves in the loss.
Bozeman 4 @ Yellowstone 3 - The Icedogs needed third-period goals from Christian Veneruzzo and Isaac Smoldon to erase a 3-2 deficit and ultimately escape with a 4-3 win over the Quake to keep their perfect record intact, moving to 9-0-0 on the season. Will Kutch and Duncan McGarrah also hit the Bozeman scoresheet on the night, while Kirwin Johnson, Will Yates and Will Sobaski potted the Quake markers. Domagoj Troha put up 29 saves in the win, while Michael Allman did all he could with 46 stops in the Quake cage.