Friday Finals: Grizzlies take down Lumberjacks
October 19, 2019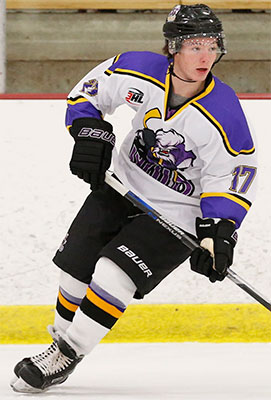 Granite City 2 @ Rochester 4 - 34 saves from Mathias Backstrom led the Rochester Grizzlies to a 4-2 win over the Granite City Lumberjacks. Lucas Newman, Nic Leisen, Matthew DeRosa and Devin Hays all chipped in goals for the Grizzlies. Carson Simon and Blake Spetz contributed goals for Granite City. Bailey Buber took the loss allowing three goals on 29 shots.
Mid Cities 7 @ TX RoadRunners 3 - Hunter Leonhard scored himself a hat trick as the Mid Cities Jr. Stars picked up a 7-3 win over the Texas RoadRunners. Brandon Speights had himself a goal and two assists in the win. Steven Guadalajara, Daniel Mandelbaum and RJ Muckensturm all lit the lamp for Mid Cities. Dominik Janickar grabbed the win in goal as he made 34 saves. Blake Elliott, Garrett Wilderman and Seth Payson all had goals for the RoadRunners. Jaeger Reed and Blake Forystek combined for 34 saves.
Butte 3 @ Gillette 10 - Tyler Kaminski, Caleb Sanborn, and George Stilson each had a pair of goals and an assist as the Gillette Wild routed the Butte Cobras 10-3. Declan Young picked up a goal and two assists while Ethan Becker and Jacob Kaminski tallied a goal and an assist. Trenton Cleveland also scored and Danny Ramos had four assists. Brad Muzarelli earned the win in goal as he made 23 saves. Ty Stovin picked up two goals and an assist for Butte while Kyler Garsjo had a goal and an assist.
Coulee Region 4 @ New Ulm 3 (SO) - Flavien Fondadouze had the game deciding goal in the shootout as the Coulee Region Chill took down the New Ulm Steel by a score of 4-3. Parker Severson and Jacob Best each had a goal and an assist for Coulee Region. Christopher Gilbert also scored while Michael Janke made 39 saves in net. Stanislav Danaev, Yanni Tsouroullis and Keegan Bauman all scored for the Steel. Jack Raymond and AJ Cohen teamed up for 20 saves.
Willmar 7 @ Breezy Point 4 - Trent Sylvester and Elbridge DeKraai each had a goal and two assists as the Willmar WarHawks dropped the Breezy Point North Stars 7-4. Owen Thomas, Eli Slagter, Angelo Perry, Simon Minch and Dylan Svoboda all scored for the WarHawks in the win. Luke Weberg stopped 41 of 45 shots to earn the win. Garrett Freemon netted a pair of goals for the North Stars while Tyler Chivers and Zeph Goret each tallied a goal as well. Conan Hayton and Griffin Foster combined for 40 stops.
NE Stars 6 @ NE Knights 4 - This battle of New England went to the Stars as the defeated the Knights 6-4. Michael Lempiainen tallied a goal and two assists while Henry Beguelin, Corey Tumenas, and Derek Flynn all had a goal and an assist. Jon Natale and Dean Paquette each scored as well. Matt Marini got the win in goal as he made 22 saves. Nicholas Ferrucci led the Knights with three points. Nolan Murphy, Jake Murphy and Brendan Thomas-Heayden all potted goals for New England. Steven Barry stopped 22 shots in the loss.
Peoria 5 @ Milwaukee 2 - George Giese had a goal and two assists to lead the Peoria Mustangs to a 5-2 victory over the Milwaukee Power. Trevor Begley, Kyle Hill, Connor Bennett and Dillan Bentley all found the back of the net for the Mustangs. Cole Water stopped 20 shots en route to getting the win in net. Wesley Knutson provided both goals for the Power. Ty Barnhill was busy in net as he made an astounding 61 saves.
Sheridan 7 @ Missoula 2 - Justin Schwartzmiller and Kolten Wright each scored once and added three helpers as the Sheridan Hawks defeated the Missoula Junior Bruins 7-2. Blake Billings potted a pair of goals while Trevor Timm, Jonathan Teasdale and Peyton Kesselhorn all scored as well for the Hawks. Zach Hearn made 24 saves to pick up the win in the crease. Michael Pazdernik and Billy Lucas provided the offense for Missoula. Seth Daniel and Dylan Swanson tag teamed to make 53 stops.
Skylands 6 @ Elmira 3 - Dylan Dinzik netted a pair of goals as the Skylands Kings went into Elmira and doubled up the Jr. Soaring Eagles 6-3. Khole Hibbert, Thomas Hoffman, James Clarke and Sean Kenny all found the back of the net for the Kings. Tyler Robertson turned aside 26 of 29 shots to earn the win. Hayden Miller, Thomas Leibold and Ian Skinner all scored for Elmira in the loss. Daniel McCarthy made 47 saves in a losing effort.
Helena 2 @ Bozeman 3 - Luke Hartge's goal at the 6:07 mark of the third period proved to be the game winner as the Bozeman Icedogs improved to 10-0 on the season after a 3-2 win over the Helena Bighorns. Hazen McKay and Max Schumacher also lit the lamp for the Icedogs while Domagoj Troha stopped 41 shots to improve to 6-0 on the season. Darren Donovan and Johnny Baird tallied goals for the Bighorns while Rylan Labrie stopped 38 of 41 Bozeman shots.