Saturday Scores: Chill extend winning streak with sweep
October 20, 2019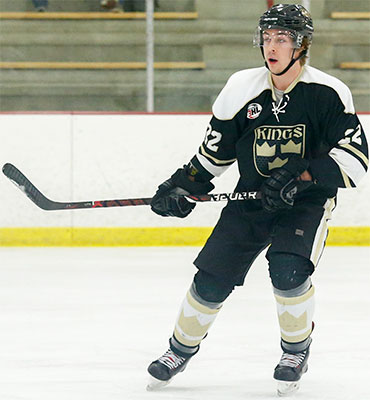 New Ulm 3 @ Coulee Region 4 - Jacob Best's three point effort propelled the Coulee Region Chill to a 4-3 win over the New Ulm Steel. Gadded Khismatullin also had himself a three point game and Marco Escobar chipped in a goal of his own. Devin Naidow made 31 saves for the Chill. Jacob Halvorson netted two goals for the Steel while Joey Gimberlin also found the back of the net. Zac Hattan stopped 37 shots in the loss.
Skylands 3 @ Elmira 2 - The Skylands Kings finished off the weekend sweep of the Elmira Jr. Soaring Eagles by a score of 3-2. Trevor Souza, James Clarke, and Thomas Mougin all scored for the Kings. Andrew Herms stopped 29 shots to earn the win. Thomas Liebold and Liam Murphy scored for the Jr. Soaring Eagles while Andrew Engel stopped 51 saves in a losing effort.
Peoria 7 @ Milwaukee 2 - Austin Kiel led all skaters with four points while Jaycob Balnd netted a pair of goals to lead the Peoria Mustangs over the Milwaukee Power by a score of 7-2. Joseph Bunton, Jared Wisely, Connor Bennett and Dillan Bentley all tallied goals for the Mustangs. Jaden Gardner only needed to make 19 saves to earn the win in the blue paint. Griffin Nickerson and Brady Rossbach scored for Milwaukee in the loss.
Butte 4 @ Gillette 7 - The Gillette Wild won their 10th straight game as Ethan Becker scored twice and added three helpers as the Wild topped the Butte Cobras 7-4. Keedin Denny lit the lamp twice while Jacob Sundgren, Declan Young and Caleb Sanborn all found the back of the net as well. Anthony Seykora stopped 28 shots to pick up the win. Kyler Garsjo scored twice for the Cobras. Trey Wells and Hunter Varney also chipped in offense for Butte. Sean O'Connor was phenomenal as he made 53 saves.
Bozeman 6 @ Helena 2 - Make it 11-0 for the Bozeman Icedogs as they took care of the Helena Bighorns 6-2 on Saturday night. Hazen McKay had a goal and three assists to lead the top team in the NA3HL. Luke Hartge and Duncan McGarrah contributed a goal and two assists each while Zach Monaco and Luke McKay had a goal and an assist. Dennis Tamburo potted a goal while Domagoj Troha stopped 29 of 31 shots. Darren Donovan and Abraham Laggis scored for the Bighorns. Rylan Labrie made 57 saves in a losing effort.
Sheridan 4 @ Missoula 1 - Justin Schwartzmiller continued his fantastic weekend as he lit the lamp twice and the Sheridan Hawks defeated the Missoula Jr. Bruins 4-1. Jonathan Teasdale and Alex Kesler scored as well for the Hawks. James Downie grabbed his third win of the year as he made 23 saves. Mi-Kwan Tallman scored the only goal for the Jr. Bruins while Larkin Dolan stopped 41 of 45 shots fired in his direction.
Northeast 12 @ Long Beach 1 - Carson Asper led the Generals with a hat trick and two assists as Northeast took care of Long Beach 12-1. Kolye Bankauskas scored twice and had two assists. Stephen Gerbis finished with four points while Joshua Dimond and Grigori Zemzer each had three points. Nicholas Wracker, Drew Schemel, Ben Pizzimenti and Samuel Rychvalsky all scored in the win. John Driscoll got the win in goal. Pavel Filin provided the only goal for the Sharks.
Yellowstone 0 @ Great Falls 5 - Dylan Olson's three point night led the Americans to a 5-0 win over the Yellowstone Quake. Hendrik Robel, Nick Ramstad, Brody Boyce and Jake Hayes all lit the lamp for Great Falls. Viktor Wennberg turned aside 17 shots to pick up the shutout in goal. Logan Cooksy stopped 56 shots in the loss.
Atlanta 2 @ Louisiana 4 - Louisiana doubled up Atlanta 4-2 as Blake Siewertsen, Grant Griffin and Alex Holt all tallied a goal and an assist. Ivan Matveev also found the back of the net for the Drillers. Doug Wakelyn stopped 33 shots to earn the win. Will Boyer and Lucas Crawford each had a goal and an assist for Atlanta. Noah Ping took the loss as he had 32 saves.
NE Knights 2 @ L/A Nordiques 6 - Four assists from Hans Watson led the L/A Nordiques to a 6-2 win over the New England Knights. Bradley McMains grabbed himself a pair of goals while Joe Clark, Connor Kennedy, Michael Keller and Peyton Hughes also scored in the win. Nick Beck denied 24 New England shots to get the win in net. Chase Lapworth and Brendan Thomas-Heayden scored for the Knights.
Danbury 4 @ Maine 5 - Luke Church's goal with four seconds remaining gave the Maine Wild a thrilling 5-4 win over the Danbury Colonials. It was Church's second goal of the game and he finished with three points. Dawson Taylor and Owen DuBois each had a goal and an assist. Regan Wintle also scored for Maine while Tom Spero stopped 53 shots to steal the win. Kolby Donovan potted a pair of goals while Kevin Reason and Misha Mshar also netted goals for Danbury. Shane O'Brien took the loss as he made 19 saves.
North Iowa 4 @ St. Louis 2 - A three goal third period lifted the North Iowa Bulls over the St. Louis Jr. Blues by a 4-2 final. Matt Dahlsiede had himself a pair of goals while Jordan Roo and Carter Wagner each lit the lamp for the Bulls. Evan Babekuhl turned aside 22 shots to grab the win for North Iowa. Jacob Wiethaupt and Pavel Kopytin scored for the Jr. Blues. Brett Tome stopped 30 shots in a losing effort.
Breezy Point 0 @ Alexandria 9 - Brandon Connett tallied a hat trick and an assist while Caleb Strong netted two goals of his own as the Alexandria Blizzard routed the Breezy Point North Stars 9-0. Michal Trejbal had a goal and three assists while Cole Jacobs and Ike Taraszewski each had a goal and an assist. Cole Lehmann lit the lamp and Nathan Hadley stopped all 27 shots thrown his way as he earned his first shutout in his first game.
Rochester 1 @ Granite City 3 - The Granite City Lumberjacks split their weekend series with the Rochester Grizzlies as they won the rematch 3-1 on Saturday night. Nikolai Rajala, Sean Davidson and Cody Dias all scored for Granite City in the win. Nate Johnston grabbed the win in goal as he stopped 23 of 24 shots. Joey Fodstad had the only goal for Rochester while Mathias Backstrom stopped 27 shots.