Sunday Wrap-Up: Bulls wins highlight weekend sweeps
October 21, 2019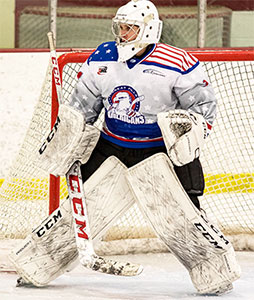 North Iowa 3 @ St. Louis 2 – The Bulls completed a weekend road sweep of the Jr. Blues thanks to a 3-2 win on Sunday. Zach Simon had two goals for the Bulls and Ryan Hempel added the game-winner in the 3rd period for the Bulls. The Jr. Blues got goals from Sean Hofstetter and Evan Ross. Bulls goalie Dysen Skinner made 28 saves in the win, while William Oliver made 32 saves in the loss.
Yellowstone 0 @ Great Falls 4 – The Americans completed a weekend home sweep with their second straight shutout of the Quake, this time with a 4-0 score on Sunday. Viktor Wennberg posted his second straight shutout, making 16 saves in the win. Jake Hayes had two goals for the Americans and Henry Chavez and Levi Mese also scored. Quake goalie Michael Allman made 48 saves in the loss.
Danbury 6 @ Maine 0 – Colonials goalie Alex Fernandes stopped all 16 shots that came his way for his first shutout of the season as Danbury blanked Maine, 6-0. Kolby Donovan scored two goals and Ryan Wojciechowski, Kyle McEnany, Misha Mshar, and Nate Mastrony also had goals for the Colonials. Wild goalie Olivier Marceau made 21 saves in the loss.
Northeast 10 @ Long Beach 2 – Koyle Bankauskas added to his league-leading point total with a hat-trick and Carson Asper had five points as the Generals beat the Sharks, 10-2 on Sunday. The Generals scored seven times in the 3rd period to break open a 3-2 game. Samuel Rychvalsky had two goals and Colin Day, Drew Schemmel, Deacon More, Ryan Falls, and Asper also scored for the Generals. The Sharks got goals from Nathan Hartline and Nicholas Garcia. Justin Simmons made 23 saves in the win, while Daniel Sprague made 69 saves in the loss.
Mid Cities 4 @ TX RoadRunners 3 (OT) – RJ Muckensturm scored two goals, including the overtime-winner, and had an assist in a 4-3 overtime win on Sunday. The Stars fought back from a 3-1 deficit and also got goals from Hunter Leonhard and Zach Perez. Meanwhile, the RoadRunners scored all of three of their goals in the 1st period, which included two goals from Garrett Wilderman and another from Tadeas Vicha. Nahuel Veyan made 37 saves in the win, while Cole Garver made 31 saves in the loss.
Atlanta 6 @ Louisiana 4 – Capitals forward Jesse Keicher had a hat-trick to lead Atlanta to a 6-4 road win in Louisiana. The Capitals scored twice in each period, which included goals in the 1st period from Keicher and Lucas Crawford, goals from Andrei Rusakov and Joey Allegrini in the 2nd period and two 3rd period goals from Keicher. The Drillers got goals from Alejandro Apud, Ivan Matveev, Grant Griffin, and JT Sgro. Noah Ping made 37 saves in the win, while Doug Wakelyn made 33 saves in the loss.