Friday Finals: Hawks roll to 7th straight win
November 2, 2019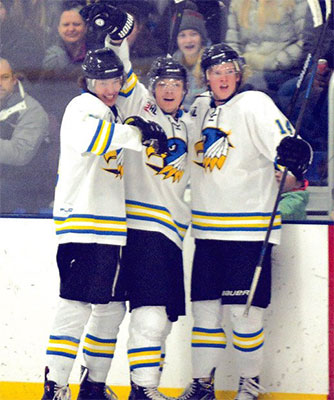 Helena 4 @ Sheridan 12 - The Hawks' high-scoring ways stayed alive on Friday, as Justin Schwartzmiller and Peyton Kesselhon particularly starred with five and four goals apiece, respectively, in a 12-4 win over the Bighorns. Trevor Timm also stood out for Sheridan with a goal and three helpers, as did Logan Syrup and Stepan Ruta, who each nabbed three assists. Rounding out the Hawks' attack were Blake Billings and Alex Kesler with a goal apiece in front of 24 saves from James Downie. William Wallace led Helena's forwards with two goals, joining Luke Theisen and Jeremy Blondin on the scoresheet. Rylan Labrie and Bailey Bradford backstopped the Bighorns with a combined 27 saves on the night.
Skylands 6 @ Long Beach 1 - A five-goal third period helped the Kings roll past the Sharks 6-1 on Friday night. Trevor Christopher, Thomas Mougin, Sean Kenny, Dylan Dinzik, Khole Hibbert and Thomas Hoffman each hit the scoresheet in the win, easily eclipsing Matthew Barnes' lone goal for the Sharks. Tyler Robertson's 27 saves earned the win for Skylands, while Richard Prazan's 55 came up just short for Long Beach.
Louisiana 1 @ Atlanta 5 - Lucas Crawford scored twice to help the Capitals to a 5-0 lead, from which Patrick Egdorf stopped a total of 21 shots as they held on for a 5-1 win over the Drillers. Gunner Moore, Christopher Walker and Jesse Keicher also scored for Atlanta, while Zach Smith posted Louisiana's goal. Grady Reis and Gunnar Snyder combined for 38 saves in the loss.
NE Stars 2 @ Danbury 4 - Two goals from Kyle McEnany and a strong showing between the pipes from Shane O'Brien proved enough for the Colonials on Friday, as they topped the Stars 4-2 at home. Also scoring for Danbury were Kolby Donovan and Kevin Remson, while Jon Natale and Brandon Melanson netted for New England. Matt Marini suffered the loss in the Stars' cage.
Elmira 0 @ L/A 4 - Nick Beck's 22-save shutout led the way as Joe Clark lit the lamp for a hat-trick in a 4-0 Nordiques win over the Jr. Soaring Eagles. Trent Seager also scored for L/A, as they forced Elmira netminders Andrew Engel and Nick Konkel into a combined 44 saves.
Milwaukee 1 @ Coulee Region 7 - Six different Chill skaters found twine in a balanced effort as Devin Naidow stopped 24 pucks en route to a 7-1 win over the Power. Sam VanderHoeven scored twice for Coulee Region, with Jacob Best, Joey Wiczek, Parker Severson, Zach Cherry and Gadel Khismatullin rounding out the Chill scoring. Garrett Alton nabbed Milwaukee's lone goal in front of 34 saves from Ty Barnhill.
Peoria 3 @ Rochester 5 - Lucas Newman and Matthew DeRose bagged a double apiece to help the Grizzlies stave off a Mustangs comeback and take a 5-3 win on Friday. Nic Leisen capped off the Rochester scoring as Sean Guerin made 18 saves to weather the storm, while Ian McHenry, Jared Wisely and Austin Keil each netted for Peoria in the final frame. Cole Walter made 25 saves for the Mustangs.
Alexandria 6 @ New Ulm 5 (OT) - Carter Rieland came in clutch in overtime, Derek Dropik scored twice in regulation and Ville Hyttinen teamed up with Bailey Rosch for 38 saves to push the Blizzard past the Steel 6-5 after an extra frame. Jack Taylor, Brandon Connett and Dallas Duckson also hit the scoresheet for Alexandria, while Marcus Mack led New Ulm with two goals, joining Joey Gimberlin, Jacob Halvorson and Keegan Bauman in the Steel scoring. AJ Cohen made 18 saves in the loss.
Willmar 5 @ Breezy Point 1 - A hat-trick from Brandon Holt and two goals from Eli Slagter saw the Warhawks first take a commanding 4-0 lead before ultimately taking a 5-1 win over the North Stars. Brandon Premo potted the Breezy Point marker, as Griffin Foster saved 35 shots for the North Stars. Luke Weberg, though, took the win with 30 saves in the Warhawks' cage.
Wausau 0 @ Granite City 11 - Jonah Jangula hit a hat-trick and Carson Simon scored twice to highlight the eight different scorers in an 11-0 Lumberjacks victory against the Riverwolves. Nate Johnston was stellar in net with 19 of 19 saves, while Troy Dahlheimer, Nathan Green, Cameron Cromwell, Josh Baker, Daymin Dodge and Kearby Larson fleshed out the scoring. Tyler Klatt and Joseph LaForge posted a shared 48 saves on a busy night in the Wausau crease.
Yellowstone 4 @ Missoula 5 (OT) - Tyler Prince found twine just over a minute into overtime to help the Bruins stymie a late comback from the Quake in a 5-4 OT win on Friday. Mi-Kwan Tallman starred for Missoula, scoring twice and setting up another, as Trevor Prince and Zane Cluphf also managed to light the lamp for the Bruins. At the other end, Dylan Rumpke, Jack Harris, Kirwin Johnson and Spencer Platt helped the Quake forced extra time. Logan Cooksy stopped 30 pucks in the loss, while Larkin Dolan tuned aside 25 for the win.
Bozeman 9 @ Butte 2 - The Icedogs righted the ship after suffering their first loss of the season last week on the backs off two-goal efforts by Luke McKay and Will Kutch as well as a whopping 48 saves from Conan Hayton as they topped the Cobras 9-2. Luke Hartge, Christian Venerruzzo, Hazen McKay, Zach Monaco and Max Schumacher each scored for Bozeman in the win, while Carsten Quam and Robin Bagley put Butte on the board. Sean O'Connor saved a stunning 67 shots in the loss.
Gillette 1 @ Great Falls 4 - Declan Young put the Wild ahead early, but four unanswered saw the Americans ultimately topple Gillette 4-1. Hendrik Robel, Brody Boyce, Bryson Fletcher and Justin Ohnstad led the goal-scoring efforts, while Viktor Wennberg brought up the back end with 31 saves. Shane Phillips finished with 35 stops for Gillette.