Saturday Scores: Danbury closes in on 1st place with win
November 10, 2019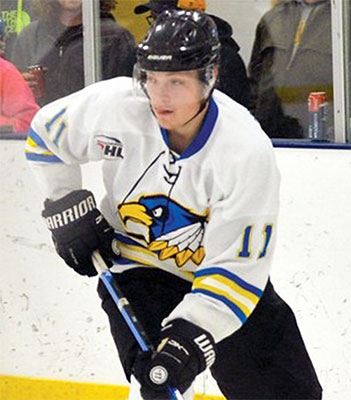 Elmira 1 @ Danbury 6 - Tied at one after one, the Colonials rode a pair of Kyle McEnany markers to a 6-1 win over the Jr. Soaring Eagles at home. Kevin Remson, Brandon Cope, Ryan Wojciechowski and Nate Mastrony lit the lamp as well for Danbury, while John Kosa posted the lone Elmira goal. Shane O'Brien notched the win in net with 22 saves, outmatching a combined 57 saves from Elmira's Thomas Held and Andrew Engel.
Missoula 3 @ Sheridan 7 - Justin Schwartzmiller's remarkable season hit another gear on Saturday, as he netted four goals -- his fifth-straight multi-goal game -- to guide the Hawks to a 7-3 win over the Bruins. Blake Billings, Alex Kesler and Stepan Ruta also scored for Sheridan, who featured a combined 23 saves from James Downie and Zach Hearn. Billy Lucas bagged a pair for Missoula, with Cayce Balk scoring another and Seth Daniel stopping 51 pucks between the pipes.
Great Falls 5 @ Helena 1 - Jack Olson scored twice in the final 40 minutes as the Americans rattled off four unanswered to take a 5-1 win over the Bighorns. Blake Nerney, Levi Mese and Henry Chavez posted the other Great Falls goals, while William Wallace bagged the Bighorns' marker. Trever Mellen made 28 saves for the win, while Garrett Dryden put up a strong show in the Helena net with 53 saves of his own.
Gillette 3 @ Bozeman 5 - Five different scorers hit the back of the net for the Icedogs, but it was Conan Hayton's 50-save performance that shone through in their 5-3 victory over the Wild on Saturday. Duncan McGarrah, Will Kutch, JD Schmelzenbach, Max Schumacher and Brady Kellerman provided the Bozeman offense. Ethan Becker paced Gillette's forwards with two goals, as George Stilson posted the other Wild strike. Shane Phillips finished with 39 saves in net.
Butte 6 @ Yellowstone 7 - Dylan Rumpke's hat-trick and Jack Harris' double provided enough punch for the Quake to outlast the Cobras in a wild 7-6 affair in the Frontier. Cade Rosansky and Jaiden Hicke posted the other Quake goals, with Logan Cooksy putting up 37 saves in net. Kyler Grasjo and Ty Stovin tried to lead Butte to a win, but their two-goal efforts fell just shy. Hunter Varney and Robin Bagley rounded out the Butte scoring, while Sean O'Connor made 34 saves in net.
Louisiana 5 @ TX Brahmas 6 (OT) - Jack Cooper's second strike of the game at 2:53 of overtime helped the Brahmas edge out the Drillers in a 6-5 win at home on Saturday. Shae Courtmanche also starred for Texas with a pair, joining Andrue Trelstad and Tyler Blanchard on the scoresheet. Bryce Runyan backstopped the Brahmas' victory with 15 saves, conceding to Blake Siewertsen, Brandon Morgan, Grant Griffin, Alejandro Apud and Shamil Khadizhalov of Louisiana. Daniel Sprague made 30 saves for the Drillers.
Skylands 9 @ Long Beach 2 - A hat-trick from James Clarke and a standout effort from Tyler Robertson between the pipes highlighted a 9-2 Kings romp past the Sharks. Thomas Mougin bagged two goals for Skylands as well, with Trevor Souza, Thomas Hoffman, Dylan Dinzik and Trevor Christopher rounding out their scoring. Will Space and Teddy Valenti knocked in goals for Long Beach, as Richard Prazan featured in goal.
TX Roadrunners 1 @ Atlanta 5 - Gunner Moore's double led the way as the Capitals blitzed the Roadrunners in a 5-1 win. Matthew Macumber, Christopher Walker and Jesse Keicher also scored for Atlanta, as Noah Ping stopped 25 pucks for the win. Riley Vertosnik bagged the only Texas goal in front of Jaeger Reed's titanic 59 saves in goal.
NE Stars 4 @ L/A 1 - Casey Johnson starred with 24 saves to help the Stars knock off the Nordiques on the road on Saturday. Henry Beguelin, Corey Tumenas, Michael Lempiainen and John Rynne provided the Stars' offense, while Peyton Hughes nabbed the lone L/A marker. Jason St. Pierre and Nick Beck posted a total of 40 saves in the Nordiques' net.
St. Louis 4 @ Peoria 3 - Evan Ross netted twice in the middle frame to push the Jr. Blues ahead by a pair, from which they held on for a 4-3 victory over the Mustangs. Clayton Dawe and Sean Hofstetter also lit the lamp for St. Louis in the back-and-forth affair, while Connor Bennett, Austin Keil and Ian McHenry posted the Peoria goals. William Oliver backstopped the win with 34 saves, outmatching Cole Walter's 18 in the Mustangs' net.
Alexandria 4 @ Rochester 3 (OT) - After the Blizzard potted a pair of third-period goals to force OT, Cole Lehmann provided the heroics 86 seconds in to give Alexandria the 4-3 comeback win over the Grizzlies. Ike Taraszewski, Derek Dropik and Caleb Strong found twine for Alexandria during the first 60, while Matthew DeRosa led Rochester with two during regulation, joining Garrett Smith in the goal column. Ville Hyttinen got credit for the win with 29 saves, while Sean Guerin suffered the loss despite 30 stops for Rochester.
Coulee Region 11 @ Breezy Point 3 - Marco Escobar and Parker Severson each struck twice, Devin Naidow made 44 saves and the Chill steamrolled the North Stars for an 11-3 win. Rounding out the Coulee Region scoring were Sam VanderHoeven, Flavien Fondadouze, Marcus Robertson, Lucas Wieser, Gadel Khismatullin, Christopher Drews and Christopher Gilbert. Garrett Freemon provided a bright spot for Breezy Point with two goals on the night, as Mario Maietta added another and Griffin Foster made 23 saves.
Willmar 1 @ North Iowa 11 - It was another high-scoring affair in the West, as the Bulls rode a hat-trick from Austin McNeil and two goals apiece from Jordan Roo and Sota Isogai to an 11-1 win over the Warhawks. Nick Bowlin, Tac Triemert, Campbell Chichosz and Lucas Wahlin finished up the Bulls' blitz, as Joseph Daninger backstopped the win with 19 saves. Johnny Rowell scored the lone Willmar mark in front of a combined 41 saves from Luke Weberg and Luc Haggitt.
Wausau 7 @ Milwaukee 4 - Another two goals from Mitchel Idalski in a five-goal second period for Wausau helped the Riverwolves pick up their second win in as many days, this time dropping the Power 7-4. Robert Carlson also struck twice, Kasey Couture, Hayden Miller and Blake Neudecker each bagged a goal for Wausau and Joseph La Forge made 47 saves for the win. Wesley Knutson, Griffin Nickerson, Nick Roberts and Isaiah Hedberg managed Milwaukee's goals in front of Ty Barnhill's 32 saves in net.