Sunday Wrap-Up: Brahmas extending winning streak
November 11, 2019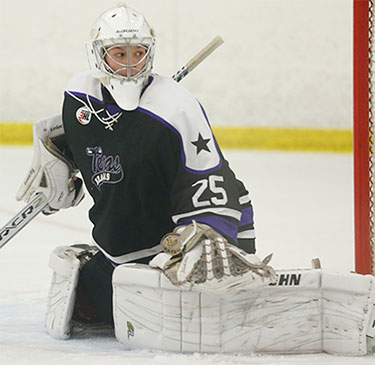 Louisiana 0 @ TX Brahmas 3 - Bryce Runyan stopped everything in sight with 28 saves as three different Brahmas hit the scoresheet in a 3-0 win over the Drillers. Tyler Blanchard, Danny Barry and Ian Erdman lit the lamp as Louisiana goalies Gunnar Snyder and Grady Reis posted a shared 31 saves in the loss.
TX Roadrunners 1 @ Atlanta 2 - Logan Bellar put Texas ahead early, but Lucas Crawford and Nikita Pecherticyn cancelled out and eclipsed his marker to help the Capitals to a 2-1 win on Sunday. Patrick Egdorf made 23 saves in the win, while Blake Forystek faced down 36 for Texas.
L/A 2 @ NE Stars 3 - Ben Monsivais put on a show between the pipes, making 38 saves to backstop the Stars to a 3-2 win over the Nordiques. Derek Lovejoy, Connor Barter and Henry Beguelin provided the offense, outmatching L/A goals from Bradley McMains and Bryce Leger. Jason St. Pierre stopped 25 pucks for the Nordiques.
St. Louis 1 @ Peoria 3 - Two second-period strikes helped the Mustangs pull away and ultimately win 3-1 over the Blues on Sunday. Tristan Trudel of Peoria and Mark Capkovic of St. Louis each netted in the first, before Quinton Murphy and Zachary Eddington rallied the Mustangs with goals in the middle frame for the 3-1 win. Jaden Gardner's 25 saves earned him the win, while Brett Tome suffered the loss with 27 of his own.
Danbury 4 @ Long Beach 5 - The trio of Will Space with a hat-trick, Matthew Barnes with two goals and two assists and netminder Timothy Brillaud with a stunning 68 saves were just what the Sharks needed to notch a long-awaited win -- their first since Oct. 6 -- 5-4 over the Colonials on Sunday. Zachary Ostrowski also put in a strong shift for Long Beach, setting up four goals in the win. Danbury fought back with a three-goal third with markers in the game from Cole Madzey, Kolby Donovan, Nate Mastrony and Dylan Webber, and received 12 saves from Michael Nardi.
Maine 2 @ Northeast 12 - The Generals offense rolled on once again, highlighted by four goals from Carson Asper and two from Stephen Gerbis, as they trampled the Wild 12-2. Grigori Zemzer, Joshua Dimond, Ben Pizzimenti, Drew Schemmel, Robby Beck and Nicholas Wracker rounded out the Northeast scoring, while Luke Church and Matt Carson bagged for Maine. Justin Simmons' nine saves were enough for the win, while Maine's Olivier Marceau and Seth Dube had a much busier night at the other end of the ice, posting a combined 44 saves.