November 15, 2019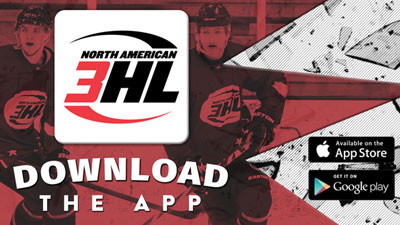 31 games are on the schedule for the NA3HL as we are just one month away from the 2019 NA3HL Showcase.
The 2019 NA3HL Showcase begins in one month and will take place from December 15-17 at the Super Rink in Blaine, MN. All NA3HL teams will play three regular-season games at the Showcase, which is annually one of the most well-attended and scouted events of the entire season for the league, attracting college and junior scouts alike.
The 2019 NA3HL Showcase schedule will be released the final week of November and will pair up evenly matched teams against one another based on the current standings and is also designed to have cross-divisional games with balanced competition.
Follow the games on the NA3HL App:
FRI, NOVEMBER 15
Alexandria at Coulee Region - 7:00 PM CST
St. Louis at New Ulm - 7:10 PM CST
North Iowa at Breezy Point - 7:30 PM CST
Willmar at Granite City - 7:30 PM CST
Louisiana at Mid Cities - 7:30 PM CST
Danbury at New England Knights - 8:30 PM EST
Peoria at Wausau - 7:30 PM CST
Texas RoadRunners at Texas Brahmas - 7:45 PM CST
Helena at Gillette - 7:05 PM MST
Bozeman at Butte - 7:30 PM MST
Missoula at Great Falls - 7:30 PM MST
Yellowstone at Sheridan - 7:30 PM MST
SAT, NOVEMBER 16
L/A at New England Knights - 3:00 PM EST
Long Beach at Northeast - 3:30 PM EST
Louisiana at Mid Cities - 6:15 PM CST
New England Stars at Maine - 7:30 PM EST
Alexandria at Coulee Region - 7:00 PM CST
St. Louis at New Ulm - 7:10 PM CST
Breezy Point at Granite City - 7:30 PM CST
Peoria at Wausau - 7:30 PM CST
North Iowa at Willmar - 7:30 PM CST
Helena at Gillette - 7:05 PM MST
Bozeman at Missoula - 7:05 PM MST
Butte at Great Falls - 7:30 PM MST
Sheridan at Yellowstone - 7:30 PM MST
SUN, NOVEMBER 17
Milwaukee at Coulee Region - 12:00 PM CST
Long Beach at Northeast - 2:00 PM EST
Texas RoadRunners at Texas Brahmas - 2:05 PM CST
L/A at Danbury - 6:20 PM EST
Louisiana at Mid Cities - 5:30 PM CST