Friday Finals: Lumberjacks win 1-0 OT thriller
November 16, 2019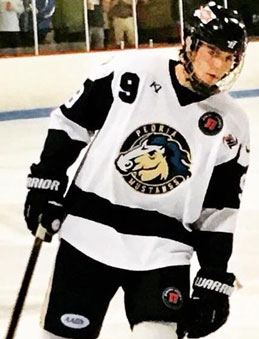 Willmar 0 @ Granite City 1 (OT) - It was a duel between Bailey Huber and Lukas Haugen for almost 65 minutes as neither goaltender allowed a goal until the final seconds of overtime. Troy Dahlheimer's third goal of the season was the only goal of the game but it was enough to give the Granite City Lumberjacks the extra point in the standings. Huber finished with 17 saves to pick up the shutout while Willmar WarHawks netminder Haugen stopped 49 of 50 shots.
Peoria 12 @ Wausau 1 - Tristan Trudel potted a hat trick for the Peoria Mustangs as they took care of the Wausau RiverWolves 12-1. Camden Swearingen and Dillan Bentley each picked up two goals and an assist while Connor Bennett tallied a goal and two assists. Austin Keil, Tyler Bihun, Jared Wisely and Jaycob Bland all scored for the Mustangs. Jaden Gardner allowed just one goal on 19 shots. Kasey Couture scored for Wausau while Tyler Klatt and Joseph La Forge combined for 48 saves.
Alexandria 2 @ Coulee Region 3 (OT) - Jacob Best's goal at the 3:43 mark of overtime was the difference as the Coulee Region Chill defeated the Alexandria Blizzard 3-2. Marco Escobar and Flavien Fondadouze each had a goal and an assist in the win while Michael Janke got the win in goal as he made 29 saves. Michal Trejbal and Dyland Carlson both lit the lamp while Ville Hyttinen took the loss despite stopping 31 saves.
St. Louis 6 @ New Ulm 1 - Sean Hofstetter potted two goals and two assists as the St. Louis Jr. Blues knocked off the New Ulm Steel 6-1. Clayton Dawe had himself a big night as he scored a goal and added three assists. Joey Solimando, Chase Morgan and Evan Ross all chipped in goals for St. Louis. William Oliver picked up the win in net as he stopped 29 saves. Denis Denisov scored the lone goal for the Steel and AJ Cohen stopped 19 shots.
North Iowa 11 @ Breezy Point 1 - 10 different North Iowa Bulls found the back of the net as they went on rout the Breezy Point North Stars 11-1. Jackson Vercellono was the only player to find the back of the net twice and he also added two helpers. Jordan Roo had himself a four point night, one goal and three assists. Cam Fagerlee, and Noah Roitman each chipped in a goal and two assists. Lucas Wahlin, Davis Smidt, Carter Wagner, Matt Dahlseide, and Ryan Hempel all found the back of the net as well. Dysen Skinner needed just 13 saves to find the win column. Braeden Zaste scored the only goal for the North Stars while Griffin Foster made 52 saves.
Louisiana 4 @ Mid Cities 3 - The Louisiana Drillers trailed by three after 20 minutes of play but four unanswered goals gave them a 4-3 comeback victory over the Mid Cities Jr. Stars. Alejandro Apud scored with just 1:19 remaining in regulation to put the Drillers ahead after Brandon Morgan scored with just over four minutes left to tie the game. Ben Cope got the comeback effort started with his third goal of the season. Ivan Matveev also scored for the Drillers. Grady Reis stopped 23 of 26 to earn the victory in goal. Brady Nelson, Steven Guadalajara and Zach Perez all scored for the Stars while Noah Kinsinger made 44 saves.
Danbury 4 @ NE Knights 5 - Jake Willis scored his second goal of the game with :43 seconds remaining in the third period to give the New England Knights a 5-4 victory over the Danbury Colonials. Devon Butler, Nolan Murphy and Kyle Madigan all scored as well for the Knights. Patrick Gribbin made 39 saves to grab the win. Adam Palomeque, Dylan Webber, Nate Mastrony and Kyle McEnany contributed goals for the Colonials. Shane O'Brien made 28 saves in the loss.
TX RoadRunners 0 @ TX Brahmas 5 - A four goal first period fueled a 5-0 win for the Texas Brahmas over the Texas RoadRunners. Cory Scull netted two goals and an assist. Danny Barry picked up a goal and two helpers. Leevi Selanne and Jack Cooper also picked up goals for the Brahmas. Kayden Hargraves stopped all 19 shots he faced en route to picking up the shutout. Jaeger Reed and Cole Garver teamed up to make 42 saves.
Helena 2 @ Gillette 8 - Declan Young was all over the ice as he recorded a hat trick and four assists in the Gillette Wild's 8-2 win over the Helena Bighorns. Caleb Sanborn scored twice and added three assists. Hunter Beckett tallied two goals and an assist while George Stilson had a goal and three assists. Anthony Seykora stopped 40 of 42 shots to earn the win in goal. Andrew Deskin and Ty Niskanen provided the offense for Helena. Kevin Tauntman took the loss as he made 54 saves.
Bozeman 7 @ Butte 4 - The Bozeman Icedogs continued their hot start with a 7-4 win over the Butte Cobras. Luke McKay led all skaters with five points as he tallied two goals and three assists. Will Kutch potted a pair of goals to go with one assist. Luke Hartge contributed a goal and three assists while Mikhail Greeley and Andrew Bertolini also scored for the Icedogs. Domagoj Troha get the win in the blue paint as he made 41 saves. Kyler Garsjo and Ty Stovin each had a goal and three assists while Robin Bagley chipped in a goal and two assists. Carsten Quam also scored for Butte in the loss.
Yellowstone 5 @ Sheridan 4 (OT) - Will Yates scored with 2:19 remaining in overtime to win the game for the Yellowstone Quake 5-4 over the Sheridan Hawks. It was his second goal of the game as he finished with three points. Ryan Lovelace and Dylan Rumpke each picked up a goal and an assist. Will Sobaski chipped in a goal as well. Michael Allman stood on his head and made 63 saves to pick up the win in goal. Logan Syrup, Kolten Wright, Kamden Senheiser and Steven Delikat all scored for the Hawks in the loss. James Downie was given the loss in goal, he made 15 saves.
Missoula 1 @ Great Falls 5 (Suspended) – The game was suspended after two periods due to poor ice conditions