Wild edge Knights in shootout on Wednesday, 4-3
November 20, 2019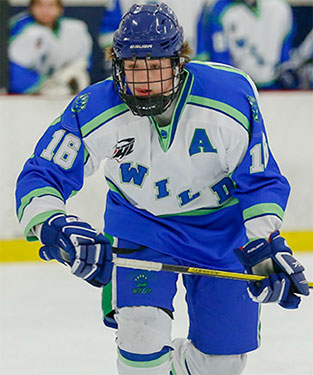 NE Knights 3 @ Maine 4 (SO) – Luke Church had the shootout-winning goal and an assist and goalie Keenan Gamache made 52 saves to lead the Maine Wild to a 4-3 shootout win over the visiting New England Knights on Wednesday.
Maine led 1-0 after a 1st period goal from Jimmy Cabral. The Knights were able to tie the game at 1-1 in the 2nd period on the 16th goal of the season from Nolan Murphy. The Wild regained a one-goal lead with a goal from Jayden Werner. However, that was answered again with a goal from Knights forward Leevi Kervinen.
In the 3rd period, the Knights took their first lead of the game thanks a goal from Martin Dlungolinsky. The Wild tied the game at 3-3 with a goal from Kadin Mason.
After a scoreless overtime, Church was the only shooter to score in the shootout, while Gamache stopped all three Knights shooters. Knights goalie Steven Barry made 34 saves in the loss.