Grizzlies climb standings with 9-2 win on Thursday
November 22, 2019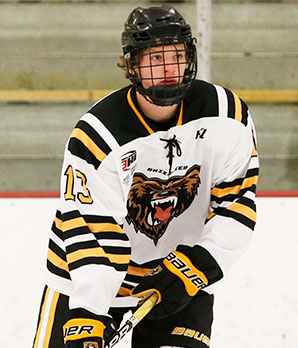 Rochester 9 @ Coulee Region 2 - The Grizzlies came out strong early by scoring the first four goals of the game, and five in the first period, while also getting a hat trick from Devin Hays, en route to a 9-2 road victory over the Chill on Thursday.
Rochester earned a power play just 1:20 into the first period and Noel Parker continued his strong play since joining the Grizzlies by knocking home his second goal of the season, making it 1-0 Rochester. Joey Fodstad then scored a shorthanded breakway goal, extending the lead to 2-0. Jesper Hofling got in on the action as he beat Chill goalie Devin Naidow for his fourth of the season at 8:31 of the first period and it was 3-0 Rochester. Just 45 seconds later, Devin Hays would make it 4-0 and chase Naidow out of the game. Parker Severson stopped the bleeding briefly for Coulee Region as he scored just :43 seconds after Hays, making it 4-1. However just 37 seconds later, recently named captain of the Grizzlies Peyton Hart made it a four-goal lead again by beating Michael Janke on the first shot he saw since entering the game.
The Grizzlies wouldn't see the same offensive outburst in the second period, but they did add to the lead. Zak Justice added some offense from the fourth line as he scored his fourth of the season at 4:28 of the second. Hays scored his second of the game at 15:13 of the second, making it 7-1 Rochester.
In the 3rd period, Hart picked up his second of the game at 5:52 after dancing his way through the defense the beat Janke by firing a wrist shot on the ice. Marco Escobar scored for the Chill at 11:26, making it 8-2 Rochester. After some hard work of attempting to get him the puck, Hays completed his hat trick with just 1:05 left in the game.
Mathias Backstrom earned his fifth win of the season, stopping 14 of the 16 shots he saw on net.