November 22, 2019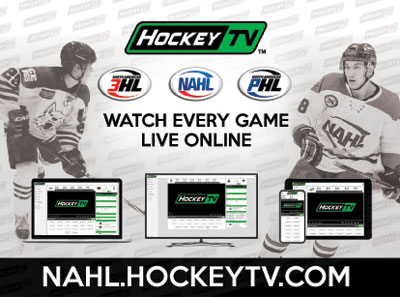 The countdown is officially on. In less than one month, all 34 teams in the NA3HL will descend upon Blaine, Minnesota for the 2019 NA3HL Showcase.
The standings have been frozen and match-ups have been set for the 2019 NA3HL Showcase and the schedule is set to be announced on Monday, November 25th at 1pm (central).
All NA3HL teams will play three regular-season games at the Showcase, which is annually one of the most well-attended and scouted events of the entire season for the league, attracting college and junior scouts alike.
Teams are approaching the halfway point of the season and this weekend features 29 games as the Thanksgiving holiday and the month of December are right around the corner.
Follow the games on the NA3HL App:
FRI, NOVEMBER 22
Breezy Point at Alexandria - 7:10 PM CST
Granite City at North Iowa - 7:30 PM CST
Coulee Region at Wausau - 7:30 PM CST
New England Stars at Elmira - 9:00 PM EST
Yellowstone at Gillette - 7:05 PM MST
Missoula at Bozeman - 7:30 PM MST
Helena at Butte - 7:30 PM MST
Sheridan at Great Falls - 7:30 PM MST
SAT, NOVEMBER 23
Skylands at Danbury - 3:00 PM EST
New England Stars at Elmira - 3:00 PM EST
Maine at Long Beach - 4:45 PM EST
Texas RoadRunners at Louisiana - 4:00 PM CST
Northeast at L/A - 7:00 PM EST
Willmar at Alexandria - 7:10 PM CST
New Ulm at Breezy Point - 7:30 PM CST
Texas Brahmas at Mid Cities - 7:30 PM CST
Granite City at North Iowa - 7:30 PM CST
Rochester at Wausau - 7:30 PM CST
St. Louis at Milwaukee - 8:00 PM CST
Yellowstone at Gillette - 7:05 PM MST
Bozeman at Helena - 7:05 PM MST
Missoula at Butte - 7:30 PM MST
Sheridan at Great Falls - 7:30 PM MST
SUN, NOVEMBER 24
Maine at Long Beach - 12:15 PM EST
St. Louis at Coulee Region - 12:00 PM CST
Skylands at Danbury - 1:00 PM EST
Texas RoadRunners at Louisiana - 4:00 PM CST
Wausau at Milwaukee - 4:00 PM CST
Texas Brahmas at Mid Cities - 5:30 PM CST