Friday Finals: Bozeman rolls to 7th straight win
November 23, 2019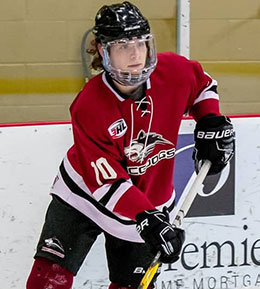 Missoula 2 @ Bozeman 8 - Luke Hartge had a night with three goals and a pair of helpers as the Icedogs romped past the Bruins 8-2. Hartge was helped by Mikhail Greeley, Andrew Bertolini, Christian Veneruzzo, Will Kutch and Luke McKay on the scoresheet, with Domagoj Troha making 36 saves between the pipes. For Missoula, Connor Frye and Austin Franck provided the offense, as Dylan Swanson stopped 42 pucks in net.
Yellowstone 2 @ Gillette 3 (OT) - Declan Young's overtime heroics capped off a Wild comeback win as they topped the Quake 3-2. Jack Harris and Dylan Rumpke nudged Yellowstone ahead in the first period, but Hunter Beckett and Tyler Kaminski led a Gillette comeback effort over the final 40 to force overtime. Shane Phillips took the win with 26 saves, outmatching a very busy Michael Allman, who stopped 49 for Yellowstone.
Helena 2 @ Butte 3 - The Cobras faced a two-goal deficit early in the second, but flexed their muscles for a statement win on Friday, coming back to take down the Bighorns 3-2. Kyler Garsjo, Alexander Chronowski and Ty Stovin managed the comeback, finding twine after Darren Donovan and Porter Tirrill pushed Helena ahead early. Danny Fielding truly starred in the Cobras' cage, facing down a stunning 64 of 66 shots for the victory in his first start of the season. Rylan Labrie had a strong night of his own for Helena, making 44 saves in defeat.
Sheridan 3 @ Great Falls 2 (OT) - After seeing their 2-0 lead evaporate in the second period, Sheridan nabbed a strong road win thanks to Justin Schwartzmiller's marker just 1:19 into overtime for the 3-2 victory over the Americans. Kamden Sengheiser and Peyton Kesselhon gave Sheridan the lead through the opening 26 minutes, but Jake Hayes bagged a double in the sandwich stanza, ultimately forcing the extra frame. Luke Fundator earned the win with 43 stops in the Hawks' cage, while Viktor Wennberg tossed aside 29 for Great Falls.
Breezy Point 3 @ Alexandria 7 - Michal Trejbal scored twice and Ville Hyttinen turned aside 30 pucks as the Blizzard blitzed the North Stars for a 7-3 win. Ike Taraszewski, Derek Dropik, Brandon Connett, Cole Jacobs and Val Popowski joined the Alexandria scoring, while Braeden Zaste, Garrett Freemon and Jordan Linder provided the Breezy Point attack. Griffin Foster and Jake Sumner combined for 58 saves in the loss.
Coulee Region 9 @ Wausau 4 - Doubles by Christopher Drews, Sam VanderHoeven and Flavien Fondadouze guided the Chill to a 9-4 win over the RiverWolves on Friday. Also scoring for Coulee Region were Joey Wiczek, Lucas Wieser and Gadel Khismatullin, while Tanner Eskro, Blake Neudecker, Mitchel Idalski and Robert Carlson lit the lamp for Wausau. Devin Naidow made 35 saves for the win, outmatching 30 from Tyler Klatt in the Wausau net.
Granite City 4 @ North Iowa 5 - After trading goals throughout the game, the Bulls managed to edge out the Lumberjacks 5-4 in a titanic tilt out West. Harrison Stewart, Cam Fagerlee, Jordan Roo, Sota Isogai and Carter Wagner tallied for victorious North Iowa, with Dysen Skinner backstopping with 26 saves. Bailey Sommers led Granite City with a pair on the night, but even with Blake Spetz and Daymin Dodge hitting the net as well, the Lumberjacks fell short. Bailey Huber made 30 saves in the loss.
NE Stars 3 @ Elmira 6 - Corey Tumenas struck twice and Jaden Brignoni added another to put the Stars up by three after a hot start, but two goals apiece from Nick Meyers and Liam Murphy helped the Jr. Soaring Eagles roar back for a 6-3 win at home. Lou DeCola and Thomas Liebold rounded out the Elmira scoring, as netminder Thomas Held starred with 56 saves after a tough start. New England's Ben Monsivais and Casey Johnson combined for 49 stops of their own.