Saturday Scores: Blizzard roll to another win
November 24, 2019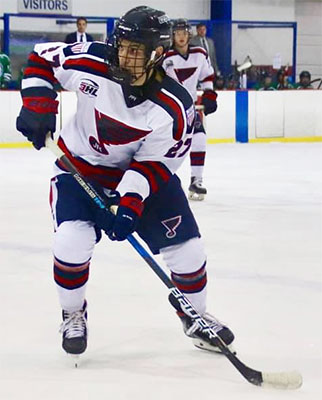 Willmar 1 @ Alexandria 3 - A tense first 40 that saw only Alexandria's Chayse Haberman light the lamp gave way to a three-goal third which ultimately ended in a 3-1 Blizzard win over the Warhawks. Alex Heidenreich and Dylan Carlson rounded out the Blizzard scoring, while Jake Santarelli posted Willmar's lone goal. Ville Hyttinen earned the win with 34 stops, while Lukas Haugen suffered the loss despite 35 of his own.
Skylands 3 @ Danbury 4 (OT) - Zack Turner bagged the game-winner in overtime as the Colonials beat the Kings 4-3. Kyle McEnany, Brandon Cope and Connor Lefkof also scored for Danbury as Shane O'Brien made 21 saves in the win. Joseph Arnold, Justin Hiler and Dylan Dinzik netted the Skylands strikes in front of 28 stops by Alex Allison.
NE Stars 5 @ Elmira 1 - Nathan Hartline broke up Casey Johnson's shutout bid with a late marker for Elmira, but the Stars' netminder's 27 saves still backstopped his team to a 5-1 victory. Derek Lovejoy, Brandon Melanson, Jon Natale, Anthony Viola and Corey Tumenas provided New England's goals. Andrew Engel and Nick Konkel stopped a total of 67 shots in the Eagles' cage.
Maine 6 @ Long Beach 2 - Luke Church potted a double, Olivier Marceau put in a strong shift between the pipes and the Wild cruised to a 6-2 win over the Sharks on Saturday. AJ Albanese, Kadin Mason, Kyle Wiswell and Dawson Taylor also netted for Maine, while Teddy Valenti and Stephen Hines notched Long Beach's goals. Timothy Brillaud tended the nets for the Sharks.
TX Roadrunners 2 @ Louisiana 5 - A whopping four-goal effort for Grant Griffin highlighted a thrilling 5-2 win for the Drillers over the Roadrunners. Blake Siewertsen rounded out the Louisiana scoring, as Aaron Dickstein faced down 18 pucks in net. Cole Garver put in a shift for Texas, stopping 35, but despite his efforts and goals from Logan Bellar and Garrett Wilderman, the Roadrunners fell short.
Northeast 2 @ L/A 3 (SO) - Bradley McMains bagged the deciding tally in the breakaway contest to nudge the Nordiques past Northeast 3-2. McMains also found twine in regulation time, joining Peyton Hughes on the L/A scoresheet, but Generals goals from Kolye Bankauskas and Tami Merilainen forced extra time. Nick Beck's 39 saves proved enough for the win, while Raphael Gaughan's 19 got his team only as far as the shootout.
New Ulm 4 @ Breezy Point 5 (OT) - After a high-scoring, back-and-forth 60 minutes that saw Breezy Point's Mario Maietta bag a hat-trick and New Ulm's Michael Savelkoul strike twice, it was Jordan Linder of the North Stars potting the OT winner to give his team the 5-4 victory. Kai Kingery scored the other North Stars goal in regulation time, while Mason Enright and Brian Oare notched New Ulm's other goals. Jake Summer stopped 32 pucks in the win, outdueling a busy Jack Raymond who made 37 saves of his own.
TX Brahmas 1 @ Mid Cities 2 - Daniel Mandelbaum scored 5:34 into the final frame to help the Stars edge out the Brahmas 2-1 in a tight South contest. Hunter Leonhard of Mid Cities and Jack Cooper of Texas traded goals in the first period, but both goalies shut things down for the majority of the game. Noah Kinsinger took the win with 33 saves in the Stars' cage. while Kayden Hargraves put up 28 stops for the Brahmas.
Granite City 4 @ North Iowa 1 - The Lumberjacks raced out to a 3-0 lead and never looked back, ultimately topping the Bulls 4-1. Carson Simon, Troy Dahlheimer, Daymin Dodge and Nick Plautz provided the Granite City offense in this one, as they eclipsed Nick Bowlin's tally for North Iowa. A 22-save effort from Nate Johnston proved to be enough for the win, while Dysen Skinner's 26 stops fell shy of the victory in the North Iowa net.
Rochester 11 @ Wausau 2 - Thirteen different skaters hit the scoresheet for Rochester as they bulldozed the RiverWolves 11-2 on the road. Paul Hofbauer scored twice, with Michael Heitkamp, Porter Haney, Lucas Newman, Joey Fodstad, Cody Reagle, Devin Hays, Peyton Hart, Zakary Justice and Noel Parker also netting to cap off the offensive blitz from the Grizzlies. Tanner Eskro and Dane Reimringer posted Wausau's markers. Shane Soderwall made 23 saves for the win, while Tyler Klatt and Joseph La Forge combined for 50 saves in the Wausau net.
St. Louis 8 @ Milwaukee 1 - Two goals apiece from Van Kraemer and Seamus Radley saw the Jr. Blues through to an 8-1 win over the Power. Also scoring for St. Louis were Sean Hofstetter, Jacob Wiethaupt, Evan Rossa and Clayton Dawe, while Ryan Butt saved Milwaukee from being shut out. Brett Tome notched the win in net for St. Louis with 26 saves, while Joey Greilich and Ty Barnhill put up a shared total of 58 saves.
Yellowstone 6 @ Gillette 4 - A jam-packed first 40 saw all 10 goals in this contest -- including a pair from Dylan Rumpke -- as the Quake outpaced the Wild 6-4. Ryan Lovelace, Jon Green, Jack Harris and Tyler Cramer also scored for Yellowstone, while Gillette's goals came from Danny Ramos, Declan Young, Tyler Kaminski and Jacob Kaminski. Michael Allman made an impressive 41 saves for the Quake, while Anthony Seykora and Brad Muzarelli combined for 33 in the Gillette net.
Bozeman 7 @ Helena 3 - Hazen McKay's fifth hat-trick of the season and Luke Hartge's pair of strikes guided the Icedogs past the Bighorns 7-3 on Saturday. Conan Hayton backstopped the winning effort with 25 saves, as Luke McKay and Hayden Groth posted goals as well for Bozeman. Darren Donovan, Ty Niskanen and Isaac Ellingson bagged Bighorns goals, with Rylan Labrie and Bailey Bradford posting a total of 41 saves.
Missoula 12 @ Butte 5 - Robin Bagley and Kyler Garsjo each lit the lamp twice to help the Cobras' attack, but the Bruins attack proved too strong as a hat-trick from Mi-Kwan Tallman and a double by Trevor Prince highlighted their 12-5 win in Butte. Tyler Prince, Cayce Balk, Kyler Fullerton, Austin Franck, Henry Morrison, Connor Frye and Zane Cluphf also found twine in Missoula's high-octane offense, while Ty Stovin nabbed the remaining Butte goal. Seth Daniel starred for Missoula with a stunning 55 saves, outmatching a total of 73 from Casey Mattfeldt and Danny Fielding of Butte.
Sheridan 5 @ Great Falls 4 (OT) - Another day, another OT between Sheridan and Great Falls, and another win in extra time for the Hawks, this time 5-4 over the Americans thanks to Logan Syrup's strike in overtime. Justin Schwartzmiller added to his impressive numbers with another two goals for Sheridan, joining Blake Billings and Steven Delikat on the scoresheet. For Great Falls, Kellen Harris starred with a pair, as Harley Nyhuis and Jake Hayes rounded out the Americans' scoring. Luke Fundator's 49-save performance earned the win, while Trever Mellen suffered the loss despite 32 stops for Great Falls.