Sunday Wrap-Up: Wild win third straight
November 25, 2019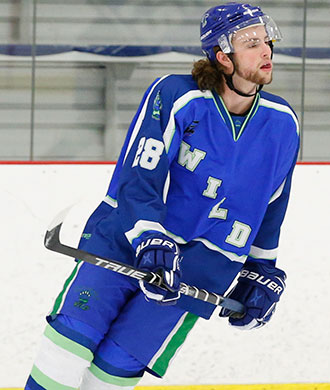 Maine 5 @ Long Beach 2 - A three-goal second period and two strikes from Kadin Mason pushed the Wild past the Sharks 5-2 on Sunday. Dawson Taylor, Matt Carson and AJ Albanese also scored for Maine, as Matt Beensterboer picked up the win between the pipes. Zachary Ostrowski nabbed both Long Beach markers with Richard Prazan manning the Sharks' cage.
St. Louis 1 @ Coulee Region 3 - Van Kraemer put the Jr. Blues ahead in the first, but the Chill roared back with a trio of tallies in the third to take a 3-1 victory over their division rival. Sam VanderHoeven, Flavien Fondadouze and Gadel Khismatullin again led the Chill to victory, spearheading the comeback effort in front of Michael Janke's 37 saves between the pipes. William Oliver posted 19 saves in the St. Louis net.
Skylands 1 @ Danbury 6 - Brandon Cope led with two goals and Michael Nardi shut the door to help the Colonials breeze past the Kings 6-1. Cole Madzey, Kolby Donovan, Nate Mastrony and Misha Mshar also lit the lamp for Danbury, while James Clarke added to his strong season with a goal for Skylands in front of Jacob King in net.
TX Roadrunners 7 @ Louisiana 4 - After falling behind in the opening 20, the Roadrunners erupted for five unanswered goals en route to a 7-4 win over the Drillers in Louisiana. Jaeger Reed stopped 31 pucks and seven different skaters hit the scoresheet for Texas, including Trevor Borlace, Blake Elliot, Jakub Uram, Logan Bellar, Myles Westbrook, Petr Pokorny and Seth Payson. Meanwhile, goals from Blake Siewertsen, Brandon Morgan, Noah MacDonald and Grant Griffin helped the Drillers put up a fight as Aaron Dickstein and Daniel Sprague combined for 15 saves in the loss.
Wausau 3 @ Milwaukee 5 - The Power raced out to a 3-0 advantage early in this contest before holding on for a 5-3 win over the RiverWolves. Wesley Knutson paced the Power with a pair of goals and an assist, joining Ryan Butt, Ryan Hoover and Ben Reinhardt in the goal column for Milwaukee. Tanner Eskro, Hayden Miller and Kasey Couture lit the lamp for Wausau. Joey Greilich's 40 stops earned the win for Milwaukee, outmatching a combined 36 from Tyler Klatt and Joseph La Forge of Wausau.
TX Brahmas 4 @ Mid Cities 2 - A scoreless first 40 gave way to six goals in the third, where the Brahmas rose to the top for a 4-2 win over the Stars on Sunday. Andrue Trelstad, Seth Wyatt-Manning, Findlay Wood and Jack Cooper each notched a goal for Texas, eclipsing markers by Zach Perez and Hunter Leonhard for Mid Cities. Kayden Hargraves made 28 saves for the win, while Noah Kinsinger suffered the tough loss despite an impressive 49 saves between the Stars' pipes.