Saturday Scores: Sweep moves Grizzlies into 1st place tie
December 1, 2019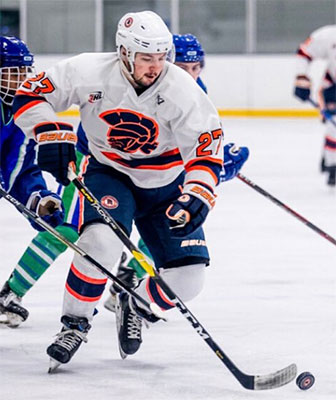 Peoria 1 @ Rochester 2 - Austin Keil put Peoria up early, but second-period goals from Lucas Newman and Hunter Wilmes helped the Grizzlies put their noses ahead for a 2-1 win. Mathias Backstrom held down the fort with 26 saves, while Cole Walter turned aside 31 in the loss.
Northeast 11 @ Maine 0 - The Generals' juggernaut pressed on on Saturday, led by Grigori Zemzer with four goals, Kolye Bankauskas and Stephen Gerbis with a pair apiece and John Driscoll with a 21-save shutout en route to an 11-0 win over the Wild. Joining in on the scoring were Tami Merilainen, Robby Beck and Carson Asper, as the Generals forced Keenan Gamache and Tom Spero into a total of 68 saves in the Maine cage.
Louisiana 6 @ TX Brahmas 2 - Shamil Khadizhalov struck twice in the opening 23 minutes to help push the Drillers out to a 3-0 advantage, a lead they never relinquished as they cruised past the Brahmas 6-2. Blake Siewertsen, Ben Cope, Grant Griffin and Viacheslav Nilov joined Khadizhalov on the scoresheet, with Aaron Dickstein stopping 33 of 35 to earn the win. Tyler Blanchard and Michael Thomas Jr. scored for Texas in front of 29 saves from Kayden Hargraves.
Breezy Point 9 @ Wausau 4 - Garrett Freemon's hat-trick and a four-goal final frame helped the North Stars break open a tight game and ultimately roll past the RiverWolves 9-4 on Saturday. Robin Praetz scored twice for Breezy Point to help fuel the offense, with Kai Kingery, Laauli Tosi, Brendan Premo and reigning West Division Star of the Week Mario Maietta also finding twine in the win. Wausau received goals from Tanner Eskro, Kasey Couture, Cade Wyluda and Robert Carlson, as well as a 36-save effort from Terran Mohr. But it was Griffin Foster and Jacob Mitchell combining for the win in the North Stars' net, stopping a total of 46 shots.
North Iowa 1 @ New Ulm 2 (OT) - After Jack Parks' late heroics earned the Steel a point in the contest, it was team captain Keegan Bauman coming through in the clutch in overtime to help New Ulm knock off North Iowa 2-1. Callahan Nauss struck for the Bulls in this one, but Zac Hattan was up to the task on the rest of the Bulls' shooters, stopping 37 pucks in the victory. Dysen Skinner stopped 29 in the tight loss.
Gillette 2 @ Helena 6 - Determined to right their season, the Bighorns grabbed hold of this contest and never let go, ultimately riding a two-goal effort from Darren Donovan and 40 saves by Kevin Tauntman to a decisive 6-2 win over the Wild. Alexander Bailey, Isaac Ellingson, Corey Miscovich and Christopher Fritz rounded out the Helena scoring, while Tyler and Jacob Kaminski lit the lamp for Gillette. Shane Phillips faced down 42 pucks in the Wild net.
Sheridan 7 @ Bozeman 2 - After falling to the division leaders on Friday night, the Hawks responded in a big way with a 7-2 win over the Icedogs in Bozeman on Saturday. Justin Schwartzmiller was at his usual best, logging a whopping four goals and two assists in the victory, with Logan Syrup nabbing a pair of each to pad his own stats. Kolten Wright also nabbed a goal in this one as Sheridan simply overwhelmed Bozeman, who saw goals by Duncan McGarrah and Luke Hartge. James Downie stopped 38 for the win, while Domagoj Troha and Conan Hayton posted a shared total of 49 saves.
Missoula 1 @ Great Falls 5 - Levi Mese scored twice -- including the GWG early in the second period to push the Americans past the Bruins 5-1. Jack Olson, Blake Nerney and Brody Boyce provided the rest of the Great Falls offense, while Tyler Katen potted the lone Missoula marker. Trever Mellen's 32 stops proved enough for the win, while Dylan Swanson kept a stout 47 pucks out of the Missoula net in an impressive showing.
Butte 4 @ Yellowstone 2 - They only found themselves up by a single goal after the first, but Ty Stovin's pair of early strikes provided the Cobras the needed lead to ultimately snatch a 4-2 victory against the Quake. Kyler Garsjo and Nick Bradshaw sealed things up with second-period goals, while Mason Merager and Dylan Rumpke put Yellowstone on the board. Danny Fielding saved 19 for the Butte win, outmatching 22 stops from Hudgel Selk in the Quake net.