North Iowa goalie Daninger earns call-up to USHL
December 5, 2019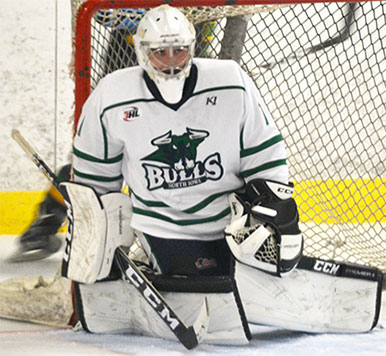 The North Iowa Bulls, proud members of the North American 3 Hockey League (NA3HL), are pleased to recognize goaltender Joseph Daninger on earning a call-up to the Cedar Rapids Roughriders of the United States Hockey League (USHL) as the backup goaltender this past Saturday evening.
Roughriders goaltender and Colorado Avalanche prospect Shamil Shmakov left last Thursday's game against the Waterloo Black Hawks after the first period after an apparent injury and was unavailable for Saturday's game against Waterloo, opening up a spot for Daninger on the roster.
The Blaine, Minnesota native traveled down to Cedar Rapids early on Saturday and quickly settled in, meeting the team coaching staff and touring the arena shortly after arriving. As a backup, Daninger was only allowed to play if starter Derek Mullahy was forced to exit with an injury of his own - Mullahy stayed healthy, though, and allowed only a first-period goal in a 1-0 loss.
"It was an unbelievable atmosphere," said Daninger. "They have an amazing group of guys down there, some unbelievable coaches and a really amazing fan base. The opportunity to experience what they do on a regular basis, going through their daily routines, is probably something that I'll never get to experience again. I'm grateful for the opportunity."
North Iowa has had a history of being "just a phone call away" from the USHL for goaltenders in recent years, with four others earning a call to the Tier I level. Zack St. John earned some practice time with Waterloo during the 2015-16 season, but Josh Benson became the Bulls' first goalie to suit up for a USHL game the following season. Drew Scites found himself on the bench for the Fargo Force that year as a postseason backup following the Bulls' season, and Connor Poczos was called into a standby role for Sioux City last season. No North Iowa player or alumnus, however, has been fortunate enough to step onto the ice in a USHL game.