Friday Finals: Cobras continue winning ways
December 7, 2019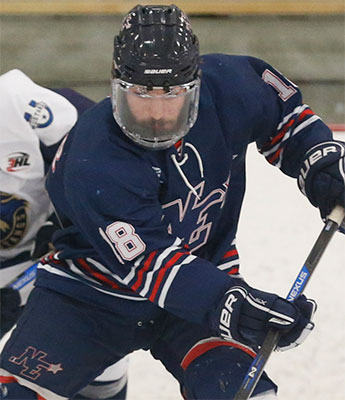 Missoula 4 @ Butte 5 - It was another seesaw contest in Butte that eventually went the Cobras' way, thanks to Nick Bradshaw's late game-winner that pushed them to a 5-4 win over the Bruins. Bradshaw also scored earlier in the contest, joining Ty Stovin with a pair in the game. John Steers potted the other Butte goal, and netminder Danny Fielding starred with 53 saves for the win. Mi-Kwan Tallman led the Bruins with a pair of goals on the night, and Trevor & Tyler Prince each posted a goal apiece, but Larkin Dolan was Missoula's strongest performer with 61 saves on the night, falling just short of victory between the pipes.
NE Knights 6 @ NE Stars 8 - The Battle of New England turned out to be quite the barnburner on Friday, where the Stars managed to outlast the Knights thanks to a Connor Barter hat-trick and a five-point night from Michael Lempiainen (2g, 3a). Ben Monsivais made 21 saves in the victory, with Josh Boyd, Nick Byron and John Rynne hitting the scoresheet as well. The Knights received two goals apiece from Chase Lapworth and Cody Porcello to go with individual strikes by Nolan Murphy and Max Burum, but even their six-goal effort combined with 33 Patrick Gribbin saves were not enough to edge out the Stars.
Danbury 1 @ L/A 5 - Two-goal efforts by Joe Clark and Sam Frechette guided the Nordiques past the Colonials 5-1 on Friday. Sergei Anisimov also scored for L/A in front of Brogan MacDonald's 30 saves, while Brandon Cope nabbed Danbury's lone tally. Alex Fernandes stopped 25 pucks for the Colonials.
Elmira 2 @ Northeast 4 - The Generals rode a pair of Kolye Bankauskas markers to a 4-2 win over Elmira in a back-and-forth contest. Grigori Zemzer and Jason Gratz bookended Bankauskas' goals for Northeast, while John Kosa and Sam Miller helped Elmira put up a fight. Justin Simmons stopped 22 pucks for the win, edging out Thomas Held's titanic, 61-save performance for Elmira.
New Ulm 1 @ Coulee Region 5 - After a scoreless first, the Chill dropped a pair in the second and three in the third to breeze past the Steel for a 5-1 win. Coulee Region's Jacob Best, Gijs De Schepper, Parker Severson, Marco Escobar and Sam VanderHoeven managed to dent New Ulm netminder Zac Hattan, who made 29 saves on the night. Devin Naidow faced down 35 pucks for the Chill, conceding only to Jacob Halvorson of New Ulm.
North Iowa 10 @ Alexandria 0 - The Bulls struck early and often on Friday, riding doubles from Matt Dahlseide and Sota Isogai and a 30-save shutout by Dysen Skinner to a 10-0 win over the Blizzard. Jac Triemert, Carter Wagner, Joey Petronack, Dalton Saltness, NIck Bowlin and Jackson Vercellono rounded out the scoring in this one, as Alexandria goaltenders Ville Hyttinen and Bailey Rosch combined for 36 saves.
Granite City 6 @ Breezy Point 0 - Six different skaters found twine and Bailey Huber earned a 20-save shutout as the Lumberjacks put a half-dozen past the North Stars on Friday. Daymin Dodge, Carson Simon, Billy Bronson, Troy Dahlheimer, Bailey Sommers and Nick Plautz each hit the net, as Breezy Point goalie Griffin Foster put on a show despite the scoreline, making a stunning 73 saves on 79 shots in the loss.
TX Roadrunners 1 @ Mid Cities 8 - Carter Payton and Brady Nelson each netted twice to lead a potent Stars attack in an 8-1 win over the Roadrunners on Friday. Trevor Borlace grabbed the lone Texas goal, but more Mid Cities markers from Brandon Speights, Hunter Leonhard, Zach Perez and RJ Muckensturm helped overwhelm the visitors. Noah Kinsinger's 29 saves earned the victory, outmatching a total of 27 stops from Cole Garver and Blake Forystek of Texas.
Atlanta 3 @ TX Brahmas 5 - Gunner Moore put the Capitals up early, and combined with Andrei Rusakov to tie things up at three early in the third, but the resilient Brahmas clawed their way to a 5-3 win at home to kick off the weekend. Parker Mara, Tyler Blanchard, William Carr, Findlay Wood and Blake Rothstein spearheaded the victory effort, with Kayden Hargraves backstopping the win with 27 saves. Patrick Egdorf stopped 24 pucks for the Capitals.
Wausau 3 @ Milwaukee 5 - A slow start gave way to a furious finish for the Power, as Wesley Knutson's hat-trick led them to a 5-3 comeback win over the RiverWolves. Vince Palade and Griffin Nickerson nabbed the other Milwaukee markers, while Kasey Couture, Jake Minch and Cade Wyluda fueled an early Wausau surge. Joey Greilich's 32 saves earned him the win, while Tyler Klatt suffered the loss despite 44 stops of his own.
Bozeman 6 @ Gillette 3 - Down by a pair entering the third, the Icedogs made a mad dash in the final 20 with five goals in 11 minutes en route to a 6-3 win over Gillette. Duncan McGarrah led the assault with two goals, flanked by individual tallies from Will Kutch, Brock Finn, Hazen McKay and Luke Hartge. Conan Hayton put up 33 stops in the Bozeman cage, allowing goals only to Ethan Becker, Declan Young and Tyler Kaminski of the Wild. Anthony Seykora made 29 saves for Gillette.
Sheridan 3 @ Helena 2 - The Hawks built up a 3-0 advantage through 30 minutes and held on from there to top the Bighorns 3-2 on the road. Justin Schwartzmiller's strike midway through the middle frame stood as the game-winner after Kolten Wright and Blake Billings gave Sheridan a stranglehold in the first. Abraham Laggis and Darian Wilson mounted a comeback for Helena, but the Bighorns fell short despite 38 saves from Kevin Tauntman. Luke Fundator took the win between the Sheridan pipes with 26 saves.
Yellowstone 1 @ Great Falls 3 - Dylan Rumpke bagged one late for the Quake, but Logan Rachow's earlier double helped the Americans hold off Yellowstone for a 3-1 win at home. Nick Silance also scored for Great Falls, who featured 15 saves from Viktor Wennberg. Michael Allman faced a busy night in the Quake cage and stood tall with a stout 75 saves on 78 shots.