RoadRunners forward Uram to spend remainder of season in NAHL
January 2, 2020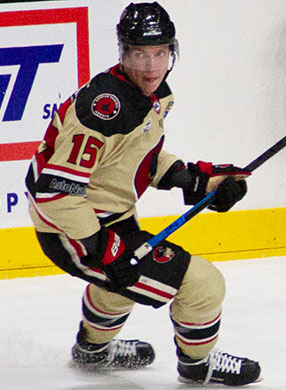 The Texas RoadRunners of the NA3HL have announced that forward
Jakub Uram
will spend the remainder of the 2019-20 season with the Corpus Christi IceRays in the North American Hockey League (NAHL).
Uram, 19, played in the NA3HL with the 'Runners in November, playing in just three games while tallying six points. The 6'2/188 lbs, native of Nitra, Slovakia began the season with the Odessa Jackalopes in the NAHL before being reassigned to the NA3HL team.
"Jakub played in 16 games for the Jacks, but was not fitting into their needs and we needed to see if we could jump start his confidence and help him get back to the NAHL," stated 'Runners head coach Mike Beavis
Uram was a bit hesitant about at first about reporting to coach Beavis's squad but after a couple conversations realized that he would see where it would lead. "Guy's never want to get sent down but in many instances it can be a good thing. With Jakub he just needed to get back on track and get more ice time to show teams he was a good player," added Beavis.
After three games with the Runners for Uram, Coach Beavis went to work on helping him get back to the NAHL. "I called Al Rooney in Corpus and we talked a bit about Jakub and he had a spot open for an import player and was willing to see what Jakub could do with them. The rest is now history as he played well in the past four games and I was told last night that they would be keeping him with the IceRays for the remainder of the season."
Development and promotion are key attributes to what the RoadRunners are trying to build in Texas and they have been doing a great job of that so far this season. "We have had a few guys get up and play with Odessa and Corpus this season and will continue to do so as a priority, this is what the NA3HL is all about and the reason it's called "The League of Opportunity," stated coach Ryan Scheide.
The Runners will be helping out the Odessa Jackalopes with a couple additions in the upcoming weeks as well as the Jacks will again be bringing up forward Logan Bellar in the near future. Bellar also began the season in Odessa before being sent to the Runners for a bit more work and development. He was returned to the Jacks within a short time to see some action before dropping back to the Runners. In 23 games with the NA3HL team he has compiled 7 goals and 14 assists and has logged a ton of ice time for the program. "Todd (Watson) and I spoke with Logan yesterday and Logan understands what we need to see from him to make this jump successful. There are defining moments in all players careers and this one will be huge for Beller." states Beavis Both coaching staffs agree that Bellar has great skills and potential and are hoping to see that come to fruition in the upcoming days with the Jacks.