Friday Finals: Bulls open new arena with big crowd and win
January 4, 2020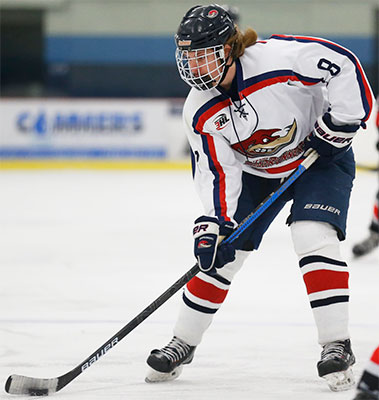 Breezy Point 0 @ North Iowa 16 - It was a banner evening for nearly every North Iowa skater, as all but one found the scoresheet with at least a point en route to a 16-0 rout of the North Stars. Carter Wagner, Matt Dahlseide, Dalton Saltness, Carter Eha and Harrison Stewart each scored twice, while Nick Bowlin, Cam Fagerlee, Jackson Vercellono, Ryan Hempel, Joey Petronack and Noah Roitman rounded out the onslaught with individual markers. Also highlighting the impressive outburst, Jack Kubitz logged four assists, Harrison Stewart, Justin Daly, Callahan Nauss, Jordan Roo and Noah Roitman posted three apiece and Nico Aguilera, Sean Sullivan, Cam Fagerlee and Carter Eha each bagged two helpers. Joseph Daninger posted an 11-save shutout, while Griffin Foster and Jacob Mitchell combined for 44 saves in the North Stars' net.
Louisiana 3 @ TX RoadRunners 4 - Trevor Borlace's hat-trick and Jaeger Reed's 31 stops set the pace as the RoadRunners sped past the Drillers 4-3 on Friday. Blake Elliott nabbed the other Texas marker, while Riley Sloane, Jacob Cummings and Ben Cope potted goals for the Drillers. Aaron Dickstein stopped 43 shots in the loss.
NE Knights 3 @ Elmira 4 - Chase Lapworth and Cody Porcello scored in the final 15 minutes to get the Knights within a goal, but Jayvon Fogelgren's early third period goal stood as the winner for Elmira as they took a 4-3 decision. Liam Murphy, Riley Botting and Lou DeCola also scored for the Jr. Soaring Eagles, while Max Burum rounded out New England's attack. Andrew Engel made 32 saves in the win, while Patrick Gribbin stopped 32 of his own for the Knights.
Rochester 6 @ Alexandria 1 - Nolan Westra put the Blizzard on the board first, but after doubles apiece from Clayton Shultz and Hunter Wilmes and 24 Shane Soderwall saves, it was the Grizzlies taking home a 6-1 win on the night. Also hitting the Rochester scoresheet were Zakary Justice and Logan Olson, as Alexandria's Ville Hyttinen and Bailey Rosch stopped a total of 31 pucks between the pipes.
Willmar 4 @ Granite City 9 - At least three goals marked each period in a shootout in Sauk Rapids, as the Lumberjacks rode two-goal efforts from Cody Dias, Ryan Pogue and Bailey Sommers to a 9-4 win over the Warhawks. Nick Plautz, Nathan Green and Erick Bromberg also hit twine for Granite City, with Bailey Huber stopping 25 in net. Jake Santarelli, Trent Sylvester, Dylan Svoboda and Jeremiah Lebsack tallied for Willmar in front of 34 saves from Luke Weberg.
St. Louis 8 @ Wausau 1 - Mason Kruger led the attack with two goals, Brett Tome steadied the rear with 30 saves and the Blues were in cruise control for an 8-1 win over the RiverWolves. Trey Walton, Valentin Kovalenko, Mike Ivory, Seamus Campbell, Jacob Wiethaupt and Sean Hofstetter also found twine for St. Louis, while Robert Carolson posted Wausau's goal. Tyler Klatt and Joseph La Forge stopped 31 combined pucks for the RiverWolves.
Great Falls 6 @ Gillette 1 - Trever Mellen's shutout bid faltered in the second period, but his 27 saves and a pair of goals from Brody Boyce still led the Americans to a comfortable 6-1 victory over the Wild on Friday. Jake Hayes, Kellen Harris, Levi Mese and Bryson Fletcher also lit the lamp for Great Falls, forcing Brad Muzzarelli and Shane Phillips into 55 combined saves for Gillette. Pablo Palos scored the lone Wild goal.
Yellowstone 2 @ Helena 7 - Abraham Laggis' whopping four-goal effort highlighted a great night for the Bighorns, who topped the Quake 7-2 for an impressive win. Johnny Baird, Darren Donovan and Jiri Benes also scored for Helena in front of Rylan Labrie's 22 saves in net. Jack Harris and Dylan Rumpke led the Quake offense as Michael Allman and Hudgel Selk shared 43 saves between their pipes.
Sheridan 4 @ Missoula 2 - Goals from Cayce Balk and Trevor Prince signaled a Missoula comeback in the third, but James Downie stood tall with nine total saves to help the Hawks hold on to top the Bruins 4-2. Steven Delikat led with a pair, with Jack Royer and Blake Billings joining him in the goals column. Larkin Dolan stopped 14 for Missoula.
Bozeman 7 @ Butte 1 - The Icedogs hit the ground running and never let up in this one, scoring just over 2:30 into the contest en route to a 7-1 trouncing of the Cobras. Kadyn Fennell, Mikhail Greeley, Isaac Smoldon, Christian Veneruzzo, Hazen McKay, Chase White and Luke McKay fueled the offense, opposite Kyler Garsjo, who bagged the lone Butte goal. Conan Hayton made 39 stops in the win, outmatching Aiden Waal and Danny Fielding, who posted a total of 44 saves for Butte.