Maine, Peoria, and Elmira complete Sunday sweeps
January 6, 2020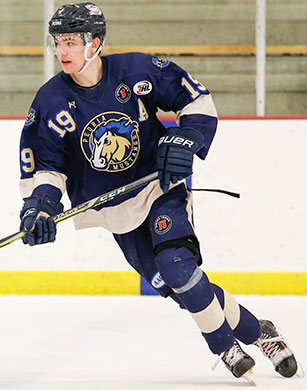 Maine 6 @ Danbury 5 (OT) - Danbury built up an early 2-0 advantage, but doubles by Regan Wintle and Luke Church and an OT winner from Matt Carson saw the Wild roar back for a 6-5 OT win. AJ Albanese also found twine for Maine, while Austin Jellison led the Colonials with two goals. Nate Mastrony, Kevin Remson and Cole Madzey each scored as well for Danbury in front of Michael Nardi's 27 saves, but Maine's Tom Spero took the win with 36 stops between the pipes.
Coulee Region 2 @ Peoria 5 - Dillan Bentley scored twice to help the Mustangs jump out to a 4-0 lead and they held on from there, ultimately topping the Chill 5-2. Connor Bennett, Jared Wisely and Quinton Murphy rounded out the Peoria scoring, with Tyler Bihun and Ryan Payne serving as playmakers with three and two assists, respectively. Jaden Gardner made 20 saves in the win, conceding only to Sam VanderHoeven of Coulee Region, who scored twice. Michael Janke made 34 saves in the loss.
Long Beach 2 @ Elmira 7 - John Kosa and Jayvon Fogelgren each scored twice, Thomas Liebold posted four points (1g, 3a) and Andrew Engel made 38 saves as the Jr. Soaring Eagles cruised past the Sharks 7-2. Rounding out Elmira's scoring were William Darling and Nathan Hartline with goals, with Nicholas Garcia and Benjamin Jennings finding twine for Long Beach. Timothy Brillaud put on a quality show in the Sharks' cage, however, stopping a whopping 84 of 91 shots that came his way.