North Iowa forward Bowlin makes NCAA commitment
January 13, 2020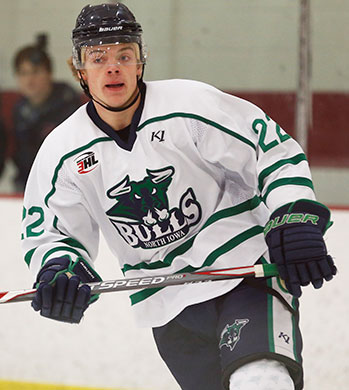 The North Iowa Bulls, proud members of the North American 3 Hockey League (NA3HL), are pleased to announce forward
Nick Bowlin's
commitment to the University of Wisconsin-Stout, an NCAA Division III institution and member of the Wisconsin Intercollegiate Athletic Conference (WIAC).
In his second season with North Iowa, Bowlin has brought experience to the roster that is hard to replicate, along with a scoring prowess that has helped him earn a top-tier forward spot on head coach Todd Sanden's roster. His size cannot be taught, and at 6'2" and 200 pounds, Bowlin brings plenty of that to the table as well.
Those are all qualities that college coaches will also find handy in a prospect, and University of Wisconsin-Stout head coach Terry Watkins is hoping that combination will be just the right one to unlock his team's potential next season.
"We're undersized. We need a little more meat on the walls," said Watkins. "Our league is a bigger, stronger league, and Nick is a big kid who plays hard, shoots well and skates well. He's got a whole game. He's not missing anything."
The former Tartan High School standout had a solid first season with the Bulls in 2018-19, putting up 25 points in 36 games on the ice. This season, the Woodbury, Minnesota native has elevated his game again with a point a night, racking up 33 points in 33 games.
"Stout envisions Nick as a big, rugged, physical forward for them," said Sanden. "They're going to expect him to chip in a bit offensively - that's the thrust for them. They like his speed, they like his size and they like his physicality."
The pipeline between North Iowa and Wisconsin-Stout continues to strengthen, with Bowlin becoming marking the 14th Bulls player to land a spot on the Blue Devils roster since the franchise's first season in 2011-12. UW-Stout has already bagged one Bulls standout this year, third-year North Iowa forward Cam Fagerlee.
Bowlin is the fourth Bulls player to make a college choice this season, and second this week. Forward Jordan Roo made his commitment to Wisconsin-Stevens Point earlier in the week. More than 140 North Iowa players have found their way to college hockey programs, including more than 70 who made their college commitments while on the Bulls' roster.