North Iowa forward Dahlseide makes NCAA commitment
January 14, 2020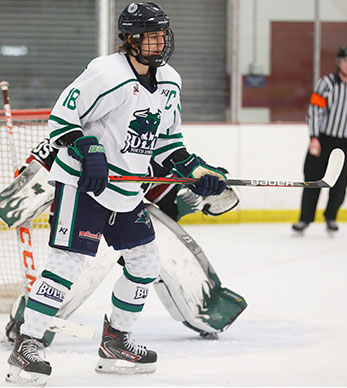 The North Iowa Bulls, proud members of the North American 3 Hockey League (NA3HL), are excited to announce that forward and co-captain
Matt Dahlseide
has committed to continue his athletic and academic career at the University of Wisconsin-Stout, beginning next season. UW-Stout is an NCAA Division III institution, and a member of the Wisconsin Intercollegiate Athletic Conference (WIAC).
Dahlseide becomes the 15th North Iowa player to make a commitment to the Blue Devils since the end of the franchise's first season in 2012. He is the third North Iowa player to commit to Terry Watkins's program this season, after Cam Fagerlee and Nick Bowlin, and the third to make a college choice in less than a week. Forward Jordan Roo announced his commitment to Wisconsin-Stevens Point early this past week, and Bowlin followed that up with his own commitment on Friday. Cam Fagerlee gave the Bulls their first college commitment of the season when he picked the Blue Devils one month ago.
"There's not much difference between Matt (Dahlseide) and Nick (Bowlin)," said Watkins. "They're complete hockey players. They just need to take that next step and jump into the next league."
The Maplewood, Minnesota native has spent most of his last three seasons with the Bulls, but has long been on the junior hockey radar. The United States Hockey League's Sioux Falls Stampede picked him in their Phase I draft in 2015, and the NA3HL's Alexandria Blizzard used a pick on him in their draft two years later.
Dahlseide led St. Paul Academy to its first-ever Minnesota state tournament appearance in 2016, finishing in fourth place before captaining the Spartans as a senior the following season. He began his junior run with the Brookings Blizzard of the North American Hockey League (NAHL) in March of 2017, and made himself right at home in Mason City after appearing in five games for Brookings and a dozen more for Alexandria.
In his first appearance with the Bulls, Dahlseide put up four points against the Wausau RiverWolves, and the run has only continued since then. After racking up 48 points between the Bulls and the Blizzard during the 2017-18 campaign and putting up 60 more last season, Dahlseide has already notched 47 points this season as the Bulls battle to return to the Fraser Cup championship tournament for the seventh time in eight seasons. Three of his goals this year have been game-winners, and he donned the North Iowa colors for the 100th time last weekend against Breezy Point.
"They expect him to come in and be a top-six forward, and that's what we feel Matt is," said North Iowa head coach Todd Sanden. "Matt still is going to need to continue to get stronger. I don't feel that there's anybody in the NA3HL that's more creative than he is - it's going to be a situation where he's going to have a great opportunity to be the player that he wants to be."
More than 140 North Iowa players have made their way to college hockey programs in the franchise's nine years on the ice, including more than 70 who made their college choices while on the Bulls roster. Eight North Iowa alumni eventually reached the NCAA Division I level, including three who are currently on Division I rosters.