January 17, 2020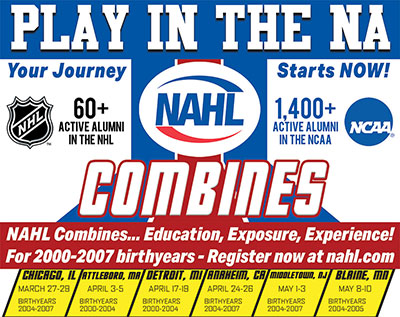 The NA3HL gets back into action this weekend with 29 games from Friday-Sunday as more spots in the playoffs are on the line.
This weekend also represents the final chance for teams to determine how many spots each will receive at the 2020 NA3HL Top Prospects Tournament, as the standings are frozen on Monday, January 20th.
It was another incredible week for NA3HL player advancement as four players made NCAA commitments and even more were called up to play in the North American Hockey League.
The next big event up for the NA3HL is the 2020 NA3HL Top Prospects Tournament, which will take place from February 17-18 in Attleboro, Massachusetts.
Follow the games on the NA3HL App:
FRI, JANUARY 17
Mid Cities at Atlanta - 7:00 PM EST
Louisiana at Texas RoadRunners - 6:15 PM CST
Alexandria at Rochester - 7:00 PM CST
Peoria at New Ulm - 7:10 PM CST
L/A at New England Knights - 8:30 PM EST
Granite City at North Iowa - 7:30 PM CST
Long Beach at Skylands - 8:30 PM EST
Milwaukee at Willmar - 7:30 PM CST
Sheridan at Gillette - 7:05 PM MST
Bozeman at Helena - 7:05 PM MST
Yellowstone at Butte - 7:30 PM MST
SAT, JANUARY 18
Elmira at Long Beach - 10:00 AM EST
Mid Cities at Atlanta - 1:40 PM EST
L/A at New England Knights - 3:00 PM EST
Maine at New England Stars - 3:50 PM EST
Elmira at Long Beach - 6:00 PM EST
Louisiana at Texas RoadRunners - 6:15 PM CST
Rochester at Alexandria - 7:10 PM CST
Peoria at New Ulm - 7:10 PM CST
Granite City at North Iowa - 7:30 PM CST
Milwaukee at Willmar - 7:30 PM CST
Missoula at Helena - 7:05 PM MST
Great Falls at Bozeman - 7:30 PM MST
Yellowstone at Butte - 7:30 PM MST
Gillette at Sheridan - 7:30 PM MST
SUN, JANUARY 19
Mid Cities at Atlanta - 11:30 AM EST
Elmira at Long Beach - 11:45 AM EST
New England Knights at New England Stars - 1:20 PM EST
Northeast at Maine - 3:45 PM EST