Steel top Blizzard on Wednesday, 6-4
January 23, 2020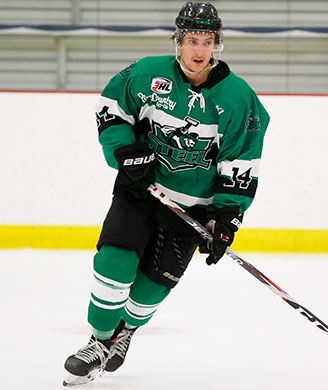 New Ulm 6 @ Alexandria 4 – Corey Stormer had a goal and an assist, Keegan Bauman scored twice, and Jacob Halvorson had three assists as the Steel won their third straight game thanks to a 6-4 road win on Wednesday night in Alexandria.
The two teams were tied at 1-1 after one period as Nolan Westra lit the lamp first for the Blizzard, which was answered with the first of two goals from Bauman. In the 2nd period, the Blizzard again went up by one as Dallas Duckson scored, but the Steel had two answers with goals from Brian Oare and Stormer to go up 3-2.
The Blizzard would not go away in the 3rd period as they tied the game at 3-3 with a goal from Brandon Connett. However, New Ulm took the lead for good with three more goals in the 3rd period, which included goals from Nick Wieben, Mason Enright, and the second of the game from Bauman. Austin McNeil had the other goal for the Blizzard.
Steel goalie Igor Samokhvalov made 34 saves in the win, while Ville Hyttinen made 34 saves in the loss.