January 24, 2020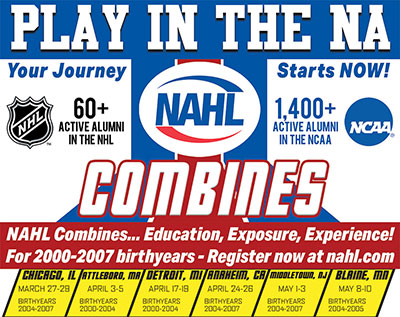 The NA3HL gets into the final stretch of the regular season as the anticipation is growing for the Fraser Cup Playoffs in early March.
This weekend features a jam-packed schedule of 32 games from Friday through Sunday.
Anticipation is also mounting for the announcement of the 2020 NA3HL Top Prospects rosters, which will be announced next week. The 2020 NA3HL Top Prospects Tournament will take place from February 17-18 in Attleboro, Massachusetts.
Each NA3HL Top Prospects team will consist of an 18-man roster (10 forwards, 6 defensemen and 2 goalies). Any player who will be considered for the event, must be nominated by their respective head coaches. Each divisional team will have two head coaches, who will be the coaches of the team's with the best winning percentage in each division as of January 20th.
Follow the games on the NA3HL App:
Download the iOS App Store version here
Download the Google Play version here
All games broadcast live on HockeyTV.
FRI, JANUARY 24
L/A at Northeast - 7:30 PM EST
Breezy Point at Coulee Region - 7:00 PM CST
Wausau at Rochester - 7:00 PM CST
Willmar at Granite City - 7:30 PM CST
New Ulm at North Iowa - 7:30 PM CST
Danbury at Skylands - 8:30 PM EST
Atlanta at Texas Brahmas - 7:45 PM CST
Butte at Gillette - 7:05 PM MST
Great Falls at Helena - 7:05 PM MST
Missoula at Yellowstone - 7:30 PM MST
SAT, JANUARY 25
Elmira at New England Stars - 3:50 PM EST
Northeast at New England Knights - 4:00 PM EST
Mid Cities at Louisiana - 4:00 PM CST
New Ulm at St. Louis - 4:00 PM CST
Long Beach at Skylands - 6:30 PM EST
Maine at L/A - 7:00 PM EST
Wausau at Peoria - 6:45 PM CST
Breezy Point at Coulee Region - 7:00 PM CST
Granite City at Rochester - 7:00 PM CST
Alexandria at Willmar - 7:30 PM CST
Atlanta at Texas Brahmas - 7:45 PM CST
Butte at Gillette - 7:05 PM MST
Bozeman at Great Falls - 7:30 PM MST
Missoula at Yellowstone - 7:30 PM MST
SUN, JANUARY 26
Elmira at New England Stars - 1:30 PM EST
New Ulm at St. Louis - 1:00 PM CST
Wausau at Peoria - 1:15 PM CST
Granite City at Willmar - 2:00 PM CST
Atlanta at Texas Brahmas - 2:05 PM CST
L/A at Maine - 4:30 PM EST
Mid Cities at Louisiana - 4:00 PM CST
New England Knights at Northeast - 5:00 PM EST