Bulls clinch playoff spot with 7-2 win on Thursday
January 31, 2020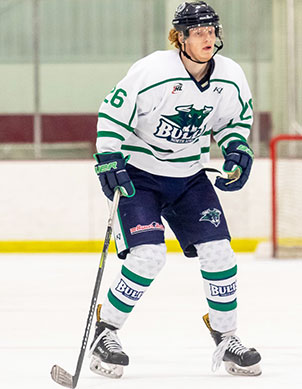 Alexandria 2 @ North Iowa 7 - After going down 2-1 late in the first period to the Alexandria Blizzard, the Bulls feasted to the tune of six unanswered goals on the way to a 7-2 win, clinching a Fraser Cup West Division playoff spot in the process.
The teams traded goals early, starting with a goal from Bulls forward Cam Fagerlee. Just 15 seconds later, though, a turnaround toss from Austin McNeil above the left-wing faceoff circle equaled the score at 1-1. A 2-on-1 chance put the Blizzard briefly in front with 6:22 to go in the first period, with Mathias Branton feeding Brandon Connett across the slot for a one-timer to put Alexandria on top by a 2-1 count.
After that, though, it was all North Iowa, and it started with two more goals in quick succession. Lucas Wahlin scored on a 2 on 1 to tie the game at 2-2. Carter Eha then banged home a one-timer to push the Bulls ahead 3-2.
North Iowa tacked on two more in the second period, as Sota Isogai cleaned up the second chance for the 4-2 lead. Eha would run the puck up the right-wing wall before facing and firing from the middle of the slot at 10:26 of the period for his second goal of the night to make it 5-2.
North Iowa wasn't done heading to the third period, either – less than two minutes out of the break Carter Wagner picked an Alexandria pocket in the neutral zone and ran it into the Blizzard zone for a 6-2 lead. Matt Dahlseide made it a 7-2 final with a quick one-timer to push the final margin to five goals.
Evan Babekuhl made 19 saves in the win, while Ville Hyttinen made 16 saves and Bailey Rosch made 14 saves in the loss, giving up 4 and 3 goals respectively.