January 31, 2020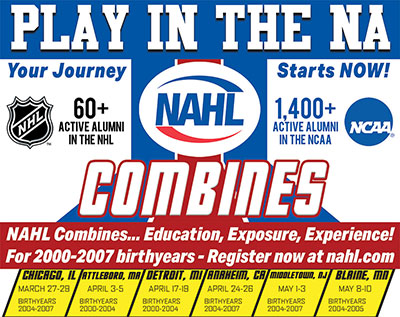 With the announcement and selection of the 2020 NA3HL Top Prospects rosters, the NA3HL gets back into a full weekend of action with 26 games on the schedule. The 2020 NA3HL Top Prospects Tournament will take place from February 17-18 in Attleboro, Massachusetts.
With their 7-2 win on Thursday night, the North Iowa Bulls became the latest team to clinch a spot in the Fraser Cup Playoffs.
The 2019-20 NA3HL regular season ends on March 8th, so there is just six weeks of games remaining for players and teams to make an impact in the push for the playoffs and division titles.
This week featuring more players getting called up to the NAHL and one current NA3HL player being named to the NAHL Selects Team for the NAHL Top Prospects Tournament.
FRI, JANUARY 31
Elmira at Danbury - 3:30 PM EST
North Iowa at Alexandria - 7:10 PM CST
Granite City at Breezy Point - 7:30 PM CST
Texas Brahmas at Mid Cities - 7:30 PM CST
Maine at New England Knights - 8:30 PM EST
Milwaukee at Wausau - 7:30 PM CST
New Ulm at Willmar - 7:30 PM CST
Gillette at Missoula - 7:05 PM MST
Great Falls at Bozeman - 7:30 PM MST
Sheridan at Yellowstone - 7:30 PM MST
SAT, FEBRUARY 1
Maine at Northeast - 3:30 PM EST
Elmira at Danbury - 3:30 PM EST
New England Stars at L/A - 3:30 PM EST
Peoria at St. Louis - 4:00 PM CST
North Iowa at Rochester - 7:00 PM CST
Alexandria at Breezy Point - 7:30 PM CST
Milwaukee at Wausau - 7:30 PM CST
New Ulm at Willmar - 7:30 PM CST
Yellowstone at Sheridan - 7:00 PM MST
Gillette at Missoula - 7:05 PM MST
Great Falls at Bozeman - 7:30 PM MST
Helena at Butte - 7:30 PM MST
SUN, FEBRUARY 2
Rochester at Coulee Region - 12:00 PM CST
Peoria at St. Louis - 1:00 PM CST
Mid Cities at Texas Brahmas - 2:05 PM CST
New England Knights at Maine - 4:30 PM EST