Jr. Blues, Chill, Brahmas all win on Sunday
February 3, 2020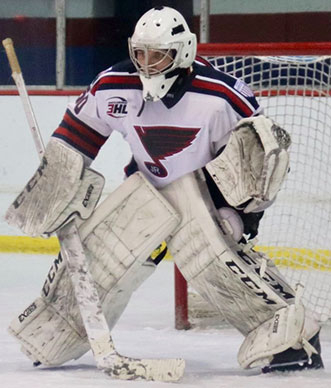 Peoria Mustangs 0 @ St. Louis Jr. Blues 4 - Thanks to a shutout from William Oliver the St. Louis Jr. Blues defeated the Peoria Mustangs, 4-0. Scoring started in the 2nd with two goals from Seamus Campbell of the Jr. Blues. In the 3rd the Jr. Blues added two to their lead with goals from Joey Solimando and Joey Boccardi. Jr. Blues goalie William Oliver made 48 saves while Mustangs goalie Jaden Gardner made 26 saves of 30.
Rochester Grizzlies 4 @ Coulee Region Chill 5 - The Coulee Region Chill won against the Rochester Grizzlies, 5-4. Hunter Wilmes of the Grizzlies scored in the 1st before Christopher Gilbert of the Chill. In the 2nd period the Chill put up three more goals from Sam VanderHoeven, Gijs De Schepper, and Parker Severson to be answered by a goal from Michael Heitkamp of the Grizzlies. Dylan Schneider of the Grizzlies scored in the 3rd followed by a goal from Severson of the Chill. Grizzlies forward Joey Fodstad had the final game with :01 left. Goalie Devin Naidow of the Chill made 37 saves of 41 in the win while Sean Guerin of the Grizzlies made 15 of 19.
Mid Cities Jr. Stars 2 @ Texas Brahmas 6 - Thanks to a hat trick from Blake Rothstein the Texas Brahmas won at home against the Mid Cities Jr. Stars, 6-2. The Brahmas took the lead in the 1st with two goals from Gabe Potyk and Blake Rothstein. Zach Russel of the Jr. Stars scored first in the 2nd followed by a goal from Andrue Trelstad of the Brahmas and before the end of the 2nd Jr. Stars forward Zach Perez scored. In the 3rd Rothstien of the Brahmas scored twice to complete a hat trick before teammate Findlay Wood could score. Brahmas goalie Kayden Hargraves made 33 saves of 35 while Jr. Stars goalies Kenton Kim made 31 of 37 and Nahuel Veyan made 7 of 7.