February 7, 2020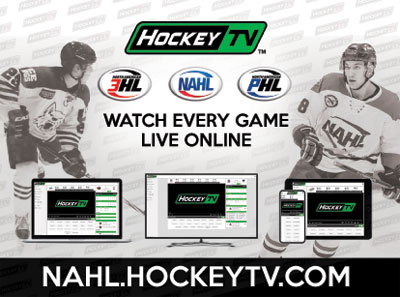 More playoff spots are on the line this weekend in the NA3HL as just one month remains in the regular season.
It was another great week for NA3HL players as more NCAA commitments were made and more players were called up to the NAHL.
The 2020 NA3HL Top Prospects Tournament is just over a week away and will take place at the New England Sports Village in Attleboro, MA from February 17-18. The event will feature 108 players, who will be on six divisional teams.
FRI, FEBRUARY 7
Texas Brahmas at Atlanta - 7:00 PM EST
Peoria at Coulee Region - 7:00 PM CST
Granite City at New Ulm - 7:10 PM CST
Louisiana at Mid Cities - 7:30 PM CST
Rochester at Wausau - 7:30 PM CST
Breezy Point at Willmar - 7:30 PM CST
Helena at Gillette - 7:05 PM MST
Northeast at Elmira - 9:15 PM EST
Missoula at Bozeman - 7:30 PM MST
Great Falls at Sheridan - 7:30 PM MST
SAT, FEBRUARY 8
Northeast at Elmira - 3:00 PM EST
Maine at New England Stars - 3:50 PM EST
Milwaukee at St. Louis - 4:00 PM CST
Louisiana at Mid Cities - 5:30 PM CST
Skylands at L/A - 7:00 PM EST
Texas Brahmas at Atlanta - 7:30 PM EST
New England Knights at Danbury - 7:30 PM EST
Peoria at Coulee Region - 7:00 PM CST
Willmar at Alexandria - 7:10 PM CST
Breezy Point at New Ulm - 7:10 PM CST
Rochester at Granite City - 7:30 PM CST
Great Falls at Sheridan - 7:00 PM MST
Helena at Gillette - 7:05 PM MST
Yellowstone at Bozeman - 7:30 PM MST
Missoula at Butte - 7:30 PM MST
SUN, FEBRUARY 9
Texas Brahmas at Atlanta - 12:30 PM EST
New England Knights at Danbury - 1:30 PM EST
Skylands at L/A - 2:00 PM EST
Milwaukee at St. Louis - 1:00 PM CST
Breezy Point at Willmar - 2:30 PM CST