West Division goes undefeated at NA3HL Top Prospects
February 19, 2020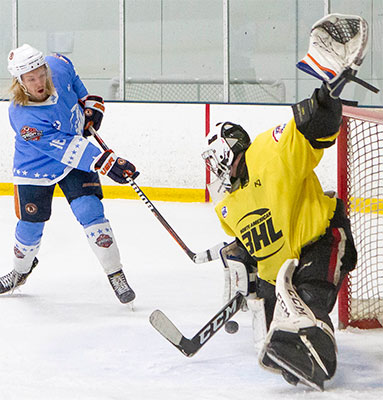 The 2020 NA3HL Top Prospects Tournament concluded on Tuesday at the New England Sports Village in Attleboro, MA.
The West Division was the only team to win all three games at the event, while the Central, Coastal, and South Divisions all went 2-1.
There were plenty of scouts talking to the players following the event, which saw 200 NAHL, NCAA and NHL scouts attend the cooperative event, which included the NAHL Top Prospects Tournament during the same time.
Tuesday's Game Recaps:
Frontier 1 vs West 8 - Logan Syrup (Sheridan) put the Frontier on the board first, but the West roared back to take an 8-1 win, led by a pair of goals apiece from Lucas Wahlin (North Iowa) and Brandon Holt (Willmar). Carter Rieland (Alexandria), Jacob Schuldt (Granite City), Blake Spetz (Granite City) and Sota Isogai (North Iowa) also found twine in the West's onslaught, with Lukas Haugen (Willmar) and Evan Babekuhl (North Iowa) each stopping 11 pucks in the win. For the Frontier, James Downie (Sheridan) stopped 16 shots and Michael Allman (Yellowstone) turned aside 19.
South 5 vs Central 6 - Parker Severson (Coulee Region) scored with just six seconds to play to give the Central a 6-5 win over the South after a wild, back-and-forth game. Marco Escobar (Coulee Region) led the Central with two goals, joining Porter Haney (Rochester) and Evan Ross (St. Louis) on the scoresheet. Matthew Macumber (Atlanta) starred with a pair of his own for the South, as Blake Siewertsen (Louisiana), Gunner Moore (Atlanta) and RJ Muckensturm (Mid Cities) also tallied for the South. Mathias Backstrom (Rochester) and Cole Walter (Peoria) split the win with 19 and 12 saves apiece, while Bryce Runyan (TX Brahmas) and Patrick Egdorf (Atlanta) stopped 14 and 12 in the loss.
Coastal 3 vs Northeast 2 (OT) - It took overtime, but Derek Flynn (NE Stars) put this one to bed with a goal late into the extra frame, sealing a 3-2 Coastal win over the Northeast. Northeast Generals teammates Carson Asper and Kolye Bankauskas chipped in Coastal goals during regulation time, but were cancelled out by Northeast goals from fellow General Tami Merilainen and Liam Murphy (Elmira). Jason St Pierre (L/A) stopped all 11 shots he faced in the Coastal cage with teammate Zach Roncarati (NE Knights) facing down 18. For the Northeast, Andrew Engel (Elmira) stopped 14 shots and Timothy Brillaud (Long Beach) turned aside 24.