50 Players, 50 Days: Hazen McKay
March 25, 2020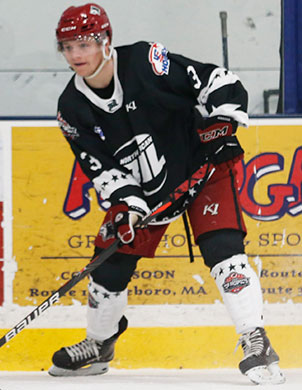 During the current and unforeseen cancelation of the 2019-20 season, the players in the NA3HL saw their seasons cut prematurely short. In some cases, players saw their junior hockey careers come to an end as well. However, the NA3HL got together a decided to highlight some of those players, who were born in 1999 and were in their final season of playing junior hockey.
As a result we present a new series entitled: 50 players, 50 days
50 players in 50 days will select 50 players from each of the 34 NAHL teams this past season that were born in 1999, who are currently uncommitted, and deserve some recognition during their time spent playing and developing in the NA3HL. Over the course of the next 50 days, we will take time out to look at their accomplishments, review their season, and provide some background on their NA3HL careers. Players will be initially highlighted in alphabetical order by team. Enjoy!
Hazen McKay, Forward, Bozeman Icedogs
Bozeman Icedogs forward
Hazen McKay
, 20, has been a star since the first time he hit the ice in the league. Playing two years in Bozeman, McKay totaled 92 goals and 79 assists en route to 171 points in 82 NA3HL contests.
The 5-foot-7, 170-pound Bozeman native began his NA3HL journey in the 2018-19 season, during which he recorded a whopping 49 goals -- including a 10-game goal streak -- and 37 assists for 86 points in just 38 games. His eye-catching first season also saw him named to the NA3HL's Second All-Rookie team. This season featured more of the same from the veteran, as he posted 43g-42a--85pts in 44 games to help Bozeman clinch the Frontier title.
One of his most interesting stats, however, comes from his knack for starting a new season on a tear. In each of his NA3HL campaigns, McKay bagged hat-tricks in two of the first three games to start the year. His goal-scoring prowess attracted plenty of attention as he earned a spot on the Frontier Division Top Prospects team in both 2019 and 2020. He posted an assist at the 2019 event.
Before taking his talents home to Bozeman, McKay spent time with the Iowa Wild AAA program, where he nabbed 5g-14a--19pts in 45 games across two seasons. In 2017-18, he also took the ice with the Rocky Mountain Roughriders for a pair of NAPHL contests.