50 Players, 50 Days: Braeden Zaste
March 26, 2020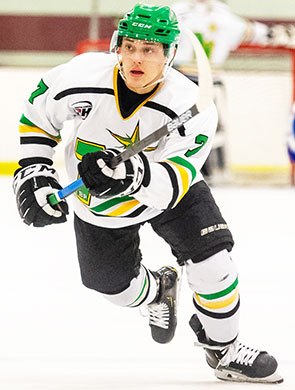 During the current and unforeseen cancelation of the 2019-20 season, the players in the NA3HL saw their seasons cut prematurely short. In some cases, players saw their junior hockey careers come to an end as well. However, the NA3HL got together a decided to highlight some of those players, who were born in 1999 and were in their final season of playing junior hockey.
As a result, we present a new series entitled: 50 players, 50 days
50 players in 50 days will select 50 players from each of the 34 NAHL teams this past season that were born in 1999, who are currently uncommitted, and deserve some recognition during their time spent playing and developing in the NA3HL. Over the course of the next 50 days, we will take time out to look at their accomplishments, review their season, and provide some background on their NA3HL careers. Players will be initially highlighted in alphabetical order by team. Enjoy!
Braeden Zaste, forward, Breezy Point North Stars
Braeden Zaste, 20, nearly tripled his point production in his second NA3HL season to help lead the North Stars in scoring during the 2019-20 campaign.
The 5-foot-6, 155-pound native of Williston, ND put up 5g-10a--15pts in 2018-19 -- his first season in the league -- but stepped up in a big way this year, logging 10 goals and a whopping 34 assists for 44 points in 47 games. The playmaker's nearly point-per-game pace this year put him at a career total of 15g-44a--59pts in 89 NA3HL games.
Watch: Braeden Zaste highlights
Before heading to Breezy Point, Zaste was a four-year standout for Williston High in North Dakota, playing 93 games and recording a total of 20g-24a--44pts. He posted three assists in his first year there, then nearly doubled his production in each successive season, posting 4-2--6 in year two, 4-7--11 in the third and closing out his high-school career with 12 goals and 12 assists for 24 points.