28 teams in 28 days: Jamestown Ironmen
August 24, 2011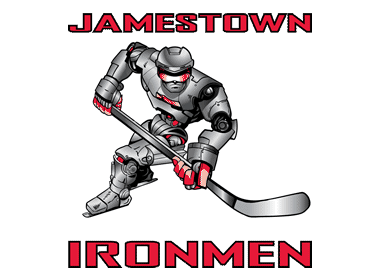 By Alex Kyrias, NAHL
No team may have had a more interesting and active off-season than the Jamestown Ironmen. Back on May 7th, the then Motor City Metal Jackets announced that they were relocating to Jamestown, New York, renaming themselves the Jamestown Ironmen and playing their home games out of the 2,685-seat James Savings Bank Arena. It ended a three-year run in suburban Detroit for the Metal Jackets/Machine teams. "Our relocation is sure to be a positive move for junior hockey in Western New York and the surrounding areas, and it's our hope to showcase a competitive and entertaining product for both the community and the NAHL," said Ironmen owner/governor Kenji Yamada at the time of the move.
The move came on the heels of the most successful season to date for the franchise. In 2010-11, the team won 31 games in the eight-team North Division, the third straight year the organization had seen an improvement in the win column. They also produced the league's top scorer and Forward of the Year in Cody Wydo, who is headed this fall to NCAA Division I Robert Morris University in Pennsylvania. But, after being near the top of the standings for the better half of the season, the team lost 10 of its final 13 games to finish just short of a playoff spot, ending the team's era in Detroit.
So the Ironmen enter a new era with a new name, new arena, new city and a new head coach in Dan Daikawa. After playing collegiately at Miami (OH) University, Daikawa embarked on a successful playing career in Japan, where he played 11 years in the JIHL and AHL. He was a four-time member of the Japanese National Team, playing on four Pool A World Championship squads, and was a member of the Japanese Olympic Team that competed in the 1998 Olympic Games in Nagano, Japan. He then went onto coach for four years back at Miami (OH) University prior to coming to Jamestown.
"Obviously, it's an exciting experience for me to help these players in the NAHL and on the Ironmen achieve their goal of getting into college," said Daikawa. "Having coached in college help me understand the type of skill set it takes for players at our level to get an opportunity to move to the next level and I welcome that challenge. I feel very fortunate to be in this position and I want to make the most of it."
Daikawa was busy from the start in early May in trying to adapt to a new city and build a roster that would compete in 2011-12. "The building has been phenomenal to us as an organization. They have accommodated us in every way possible and it is really going to be a fun place to play," said Daikawa. "We are busy trying to introduce ourselves to the community through some youth hockey and outreach programs, but once fans see the level of play that the NAHL has to offer, they will be amazed at the quality of which these teams play at."
Daikawa said that in building his team, he was thinking defense first, despite the fact that the team had the #3-ranked offense in the NAHL last season. "Great offenses come from defense," said Daikawa. "No doubt, they had a team last season that could run and gun, but we want guys who are defensive-minded because being consistent on defense is what I am most concerned with."
The coach was also quick to make sure that he included some veteran talent on the roster. "The players that are returning to the Ironmen are here because they wanted to be. They were adamant that they would be interested in playing for us, in a new city and everything, if the culture was going to change," said Daikawa. "That's the type of character I wanted to see in our returning guys who were basically looking to lead and help us through a fresh start and transition."
One of those returners is Illinois native Anthony Coles, who recorded 35 points including 13 goals last season. Another is defenseman Aaron Scheppelman, who was second in the team in plus/minus last season with a +24 and is a player that Daikawa has been very pleased with so far. In goal, the Ironmen will return Joey Ballmer, who appeared in 19 games last season and who Daikawa hopes will be backbone of a solid defensive group. There will also be plenty of new players, who will have to adapt to the NAHL game, but Daikawa believes they have plenty of skill in order to make Jamestown a contender. If the upward trend continues, Jamestown could make their first season in their new home the first season they make the playoffs if Daikawa has his way.
Next up in the NAHL's 28 teams in 28 days series, the Janesville Jets.