50 Players, 50 Days: Hans Watson
April 8, 2020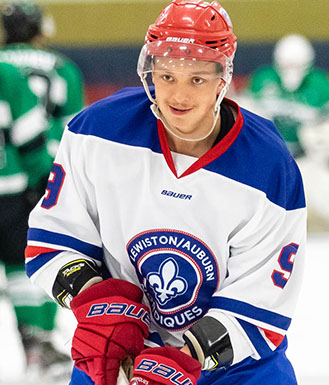 During the current and unforeseen cancelation of the 2019-20 season, the players in the NA3HL saw their seasons cut prematurely short. In some cases, players saw their junior hockey careers come to an end as well. However, the NA3HL got together a decided to highlight some of those players, who were born in 1999 and were in their final season of playing junior hockey.
As a result, we present a new series entitled: 50 players, 50 days
50 players in 50 days will select 50 players from each of the 34 NAHL teams this past season that were born in 1999, who are currently uncommitted, and deserve some recognition during their time spent playing and developing in the NA3HL. Over the course of the next 50 days, we will take time out to look at their accomplishments, review their season, and provide some background on their NA3HL careers. Players will be initially highlighted in alphabetical order by team. Enjoy!
Hans Watson, Defenseman, L/A Nordiques
As a key rookie contributor in the L/A Nordiques' 2018-19 regular-season championship and subsequent run to the Fraser Cup Final,
Hans Watson
, 20, came into the 2019-20 campaign as a new leader on and off the ice.
The 6-foot-0, 185-pound blueliner put up 12 goals and 19 assists for 31 points in 44 games in his rookie season, good numbers for any player, let alone a defenseman. But he built that production even higher in 2019-20, with 14 goals, 37 assists and a whopping 51 points in 46 games, good for fourth among all NA3HL defensemen and a share of third in L/A team scoring. Watson closes out an impressive NA3HL career with 26 goals and 56 assists for 82 points in 90 games.
A native of Lancaster, PA, Watson took the ice with Lampeter-Strasburg High during the 2014-15 season, logging 23 points in 17 games. From there, he moved on to youth hockey with the York Devils 18U in 2015-16 and Quakers Hockey 18U in 2016-17, putting up a total of 15 points in 40 games with those two teams before making his way up to L/A.