North Iowa defenseman Kubitz makes NCAA commitment
April 9, 2020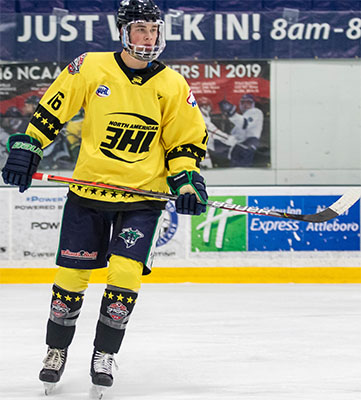 The North Iowa Bulls, proud members of the North American 3 Hockey League (NA3HL), are excited to announce that defenseman
Jack Kubitz
has announced his commitment to play NCAA Division III hockeyfor Bethel University and the Royals hockey program, beginning with the 2020-21 academic year. Bethel University is a member of the Minnesota Intercollegiate Athletic Conference (MIAC).
Kubitz brings the full package with him to Bethel, proving his hockey talent by helping the Bulls win their seventh division title in nine years and his smarts in the classroom with a grade-point average of more than 4.0 and an ACT score of 32, among the top three-percent of students in the nation.
He becomes the 12th player from this year's team to make a college commitment, and the 10th to choose an NCAA program as his home for 2020-21. More than 140 North Iowa Bulls players have moved on to play college hockey, including more than 70 who made their commitments while on the North Iowa roster.
"I really like the school and the facilities they have to offer, and I think playing for Coach [Chris] McKelvie will be a great fit," said Kubitz. "It's a place where I see myself making a positive impact on the hockey program and in the classroom in the next four years."
Kubitz is one of several top prospects to come to the Bulls out of Orono High School in the Twin Cities over the last couple of seasons. After contributing five points in the Spartans' Minnesota state high school tournament run last year, a run that saw them come out as state champions, he served as the team's captain last year and added 19 more points in his final season of prep hockey.
His junior opener for the Bulls was a dandy, with a power play goal in the final minutes of a March 2019 win over the Peoria Mustangs. He added an assist in five postseason appearances, as the Bulls worked their way to the Fraser Cup semifinals. This year, Kubitz kicked off the season with points in his first four games on the way to a 22-point performance in his first full season with the Bulls. His lone goal of the 2019-20 season was a late power play tally that put an exclamation mark on an early-season victory over the Granite City Lumberjacks. He turned that strong effort into a spot in the league's Top Prospects event in February, and also earned the West Division's Academic Achievement Award for the season.
"We are very excited to add Jack to the Bethel Hockey family," said McKelvie. "We have watched Jack for a couple of years now, and believe he has a very high upside and will continue to improve and be great for us at Bethel. We look forward to working with him this coming fall."
Kubitz and fellow Bull Carter Wagner will be key pieces to the puzzle as McKelvie looks to continue his Royal rebuild – Bethel finished 7-14-4 in his second season as head coach, posting its highest win total since the 2011-12 campaign. All 11 of the Bulls' 1999-born players from the past season, including Wagner, have also announced college commitments for next season after exhausting their junior eligibility.