50 Players, 50 Days: Grant Griffin
April 10, 2020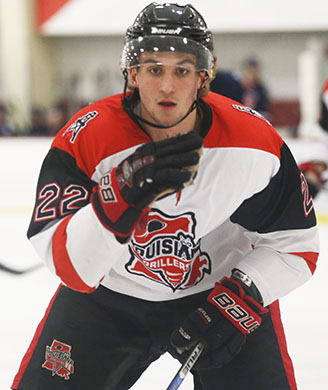 During the current and unforeseen cancelation of the 2019-20 season, the players in the NA3HL saw their seasons cut prematurely short. In some cases, players saw their junior hockey careers come to an end as well. However, the NA3HL got together a decided to highlight some of those players, who were born in 1999 and were in their final season of playing junior hockey.
As a result, we present a new series entitled: 50 players, 50 days
50 players in 50 days will select 50 players from each of the 34 NAHL teams this past season that were born in 1999, who are currently uncommitted, and deserve some recognition during their time spent playing and developing in the NA3HL. Over the course of the next 50 days, we will take time out to look at their accomplishments, review their season, and provide some background on their NA3HL careers. Players will be initially highlighted in alphabetical order by team. Enjoy!
Grant Griffin, Forward, Louisiana Drillers
In just two NA3HL seasons, Louisiana Drillers forward
Grant Griffin
, 20, developed into a potent offensive powerhouse with an improvement of nearly 40 points from 2018-19 to 2019-20.
In his rookie season, the 6-foot-1, 180-pound forward bagged a respectable 15 goals and 14 assists for 29 points, finishing eighth in team scoring and helping the Drillers into the playoffs. The 2019-20 campaign, however, saw a more dominant version of Griffin, as he lit up the South Division for 33 goals, 35 assists and 68 points in just 47 games -- good for second on the team. Griffin closes out an impressive NA3HL career with 48 goals and 49 assists for 97 points in 86 games.
A St. Louis, MO native, Griffin spent time in the local youth and high school hockey scenes, playing for both Oakville High and St. Louis AIC Prospects 18U from 2016-18. In 56 games with Oakville, Griffin posted 13 goals and 20 assists, while his time with St. Louis AIC Prospects saw him put up 42 goals and 45 assists for 87 points in 92 games.