28 teams in 28 days: Janesville Jets
August 25, 2011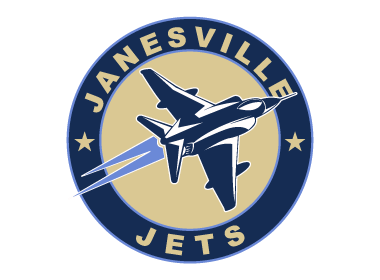 By Alex Kyrias, NAHL
If you have been around the NAHL for any extended period of time, the Janesville Jets are just one of those teams that you know is on the rise to something big. In their brief two-year history, the Jets have steadily improved each season. Last year, they racked up a franchise record 35 wins, won their first-ever playoff game and came within a win of making an appearance in the North Division Finals.
"I was very pleased with what happened last year. We got off to a great start and really only had two bad stretches the entire season because of injuries," said head coach Dane Litke. "If you look at our division, we finished in 4th place in the final playoff spot, yet had 35 wins and 74 points. That would have been good for 2nd place in a couple of the other divisions, so we didn't feel bad finishing where we did."
The Jets had the daunting task of facing the Bandits in the North Division Semi-Finals. The Jets were the heavy underdog thanks in large part to the fact they had never won a game (regular or post-season) in St. Louis. That all changed in Game #2 of the series when the Jets topped the Bandits to even the series. Janesville also won a thrilling Game #4 in overtime to send the series to the fifth and deciding Game 5 back in St. Louis where ultimately the Bandits triumphed. "Our first playoff victory in team history also happened to be in St. Louis in Game #2, so we felt like it was something to build on," said Litke.
Litke also took a lot of pride in the fact that every player that aged out at the end of last season, is headed to the NCAA to continue their hockey careers this fall. "That's what it's all about for us is developing our players, providing them with a good experience and see them continue onto the next level."
However, it leaves Litke and the Jets with some holes to fill as they look towards the 2011-12 season. "We have a little different look to the division this year, but the goals remain the same because every team is tough to play against the NAHL," said Litke. "I fully expect St. Louis and Springfield to be excellent again, Chicago will be much improved and now we add our in-state rival in the mix with the Coulee Region Chill, who had a fantastic season last year. The competition is going to be tough, so we need the players that are going to be able to be successful."
In Janesville, success starts on defense. The Jets had the #2-ranked defense in the NAHL last season, allowing the second fewest goals and having the second best penalty kill in the league. It was thanks in large part to their goaltending, and although starter David Jacobson is off to the NCAA this fall, veteran goalie Tony Kujava will return between the pipes.
Although Kujava, 19, only appeared in 18 games last season, his numbers were outstanding. He posted a 1.69 goals against average and a 93.6% save percentage, both of which would have ranked 1st and 2nd in the NAHL last season respectively if he had played more minutes to qualify. "It certainly gives us confidence as a team knowing that Tony is back there," said Litke. "He played really well last season and even was in goal for our first playoff win, so I expect him to be very good this season, now that he has a year under his belt."
Up front, the Jets are younger and bigger up front, but have the benefit of returning key forwards such as: Connor McBride, Pijus Rulevicius, Truman Landowski and Lawrence Childs. McBride, 19, returns to the Jets after finishing second in team scoring last season, including posting 25 goals. "When McBride gets hot, there aren't many players that can put the puck in the net like he can, we just have to figure out a way to make sure he does it on a consistent basis," said Litke.
As far as the new blood coming to the Jets this season, one player particularly stands out to Litke. That player is defenseman Garrett Cecere, who at just 16, just committed to play NCAA Division I hockey at Colorado College for the 2014 season. "He is a smaller, skilled defenseman with tremendous upside and potential," said Litke. Cecere recently played for Team USA in the U17 Five Nations Tournament, where they finished in first place after posting an undefeated record.
If Janesville continues their upward trend as they have in their first two seasons, fully expect them to finish at or near the top of the newly created Midwest Division this season.
Next up in the NAHL's 28 teams in 28 days series, the Kalamazoo Jr. K-Wings.