50 Players, 50 Days: Andrew Palmiter
April 17, 2020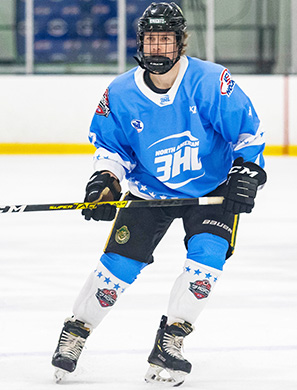 During the current and unforeseen cancelation of the 2019-20 season, the players in the NA3HL saw their seasons cut prematurely short. In some cases, players saw their junior hockey careers come to an end as well. However, the NA3HL got together a decided to highlight some of those players, who were born in 1999 and were in their final season of playing junior hockey.
As a result, we present a new series entitled: 50 players, 50 days
50 players in 50 days will select 50 players from each of the 34 NAHL teams this past season that were born in 1999, who are currently uncommitted, and deserve some recognition during their time spent playing and developing in the NA3HL. Over the course of the next 50 days, we will take time out to look at their accomplishments, review their season, and provide some background on their NA3HL careers. Players will be initially highlighted in alphabetical order by team. Enjoy!
Andrew Palmiter, Defenseman, New England Knights
A veteran of two years in the NA3HL entering the 2019-20 campaign, New England Knights defenseman
Andrew Palmiter
, 20, stepped into the team's first season as a key contributor on the ice and respected leader in the locker room.
The 6-foot-0, 200-pound blueliner began his NA3HL career in 2016-17 in his hometown of Binghamton, where he logged 78 games and 18 points across two seasons from 2016-19 with the Jr. Senators. This season, he joined the Knights ahead of their inaugural campaign, and posted three goals, 12 assists and 15 points in 42 games while recording some heavy minutes on the New England blue line.
Palmiter's shut-down prowess earned him a spot on the 2020 Coastal Division Top Prospects team, and he notched an assist during February's event.
Palmiter's pre-junior days were spent with the Wilkes-Barre/Scranton Knights 16U squad, playing 38 games in 2015-16 -- 20 of which were in the NAPHL, where he was scouted by NA3HL coaches. After his initial season in Binghamton, Palmiter spent a season with the 95 Giants 18U team, before rejoining the Jr. Senators in 2018-19.