50 Players, 50 Days: Stanislav Danaev
April 21, 2020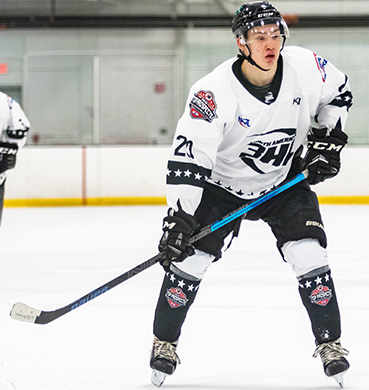 During the current and unforeseen cancelation of the 2019-20 season, the players in the NA3HL saw their seasons cut prematurely short. In some cases, players saw their junior hockey careers come to an end as well. However, the NA3HL got together a decided to highlight some of those players, who were born in 1999 and were in their final season of playing junior hockey.
As a result, we present a new series entitled: 50 players, 50 days
50 players in 50 days will select 50 players from each of the 34 NAHL teams this past season that were born in 1999, who are currently uncommitted, and deserve some recognition during their time spent playing and developing in the NA3HL. Over the course of the next 50 days, we will take time out to look at their accomplishments, review their season, and provide some background on their NA3HL careers. Players will be initially highlighted in alphabetical order by team. Enjoy!
Stanislav Danaev, Forward, New Ulm Steel
New Ulm forward
Stanislav Danaev
, 20, stepped into the Steel lineup this season and made an immediate impact, putting up nearly a point-per-game in his first and only NA3HL campaign.
Danaev, a 6-foot-0, 195-pound native of Pingviny, Russia, put up 17 goals and 27 assists for 44 points in 45 games this season, ranking fourth on the team in all three categories. Danaev shone brightest in key moments, posting five game-winning goals in 2019-20, good for a share of second among all Steel skaters. His impressive performances put him on the West Division team at the Top Prospects event in February, where he scored twice in three games.
Danaev's production is made even more impressive considering that the 2019-20 season was just his second in North America -- the Russian sniper spent 2016-18 playing in his home country. In 2016, he played for Vityaz Podolsk 18U before joining Fenix PMGMU Moskva in MSHL3, where he played 10 games and notched a whopping 18 goals, 25 assists and 43 points. He then spent 2017-18 with Aviatory MAI Moskva in MSHL1 before moving stateside to join the Fresno Monsters of the WSHL in 2018-19, and the Steel this season.