50 Players, 50 Days: Justin Simmons
April 22, 2020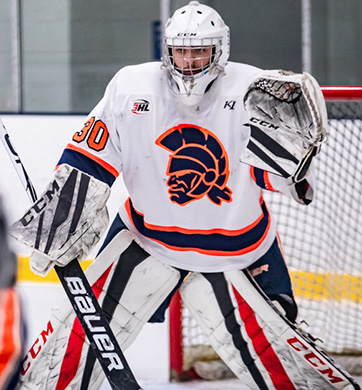 During the current and unforeseen cancelation of the 2019-20 season, the players in the NA3HL saw their seasons cut prematurely short. In some cases, players saw their junior hockey careers come to an end as well. However, the NA3HL got together a decided to highlight some of those players, who were born in 1999 and were in their final season of playing junior hockey.
As a result, we present a new series entitled: 50 players, 50 days
50 players in 50 days will select 50 players from each of the 34 NAHL teams this past season that were born in 1999, who are currently uncommitted, and deserve some recognition during their time spent playing and developing in the NA3HL. Over the course of the next 50 days, we will take time out to look at their accomplishments, review their season, and provide some background on their NA3HL careers. Players will be initially highlighted in alphabetical order by team. Enjoy!
Justin Simmons, Goaltender, Northeast Generals
Northeast Generals netminder Justin Simmons, 20, served as one of three talented goaltenders on one of the league's top teams in 2019-20, but managed to carve out his own role between the pipes and led the team in minutes played while still posting impressive statistics.
Standing at 6-foot-1, 185 pounds, the Riverside, RI native picked up 15 wins in 19 appearances (1,108 minutes), putting up a .900 save percentage, 2.55 GAA and 2 shutouts on the year. Splitting time with the two other goaltenders on the roster, Simmons still managed to stay consistent, finding a rhythm that led him to wins in nine of his last 10 starts, despite those 10 starts spanning from all the way back in early November up to March 6.
Simmons spent time with Bridgton Academy in the US Prep Hockey circuit during the 2017-18 campaign, before joining the Generals for this season.