28 teams in 28 days: Kenai River Brown Bears
August 27, 2011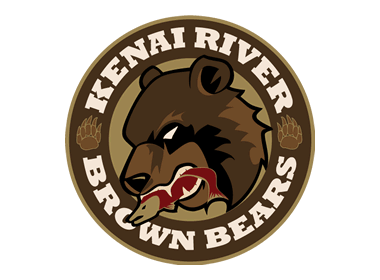 By Alex Kyrias, NAHL
Since their arrival in the NAHL back in the fall of 2007, the Kenai River Brown Bears have gone through their struggles. 12 wins, 14 wins and 12 wins the past three seasons… something that head coach Oliver David knew had to change at the start of last season. "We knew something had to change. Our division grew by two teams with the addition of Fresno and Dawson Creek, so it was going to become more difficult to travel during the season and make the playoffs at the end," said David. "I think we all knew that we were close to breaking out, we just didn't know we would do it in record fashion."
The Brown Bears opened up the season in a split with Alaska and then went 2-2 at the NAHL Showcase, but the key for Kenai River as the season went on was being able to put a halt to the long losing streaks that have plagued the team in the past. "I think consistency was our number one thing. There was never a time that we got too high or too low, and that's what good teams do," said David. "We weren't exceptional. Our team was filled with hard workers and guys that did the little things and that helped us compete on a nightly basis."
The Brown Bears never had a stretch of more than three games last season in which they didn't earn at least a point. Conversely, the longest winning streak was only four games. During a stretch of hockey in November, Kenai swept series with eventual Robertson Champion Fairbanks and West Division powerhouse Wenatchee.
The Brown Bears ended up with 27 wins last season, shattering all kinds of team records. The previous high for a season for Kenai was 14, so being able to almost double that total last season was a huge step forward. If there was one bug-a-boo that remained it was the playoffs. Kenai had made the playoffs in two of their first three seasons, but the first round had seen nothing but sweeps, leaving Kenai without a playoff win. In the West Semi-Finals last year, the Brown Bears had the task of trying to stop the offensive machine that was Fairbanks. It was not to be, as the Ice Dogs rolled to a first round sweep, outscoring Kenai 18-4 in the three games.
The loss didn't dampen David or what the Brown Bears had done. "It felt good to win, to break records, but now we have to take that next step and figure out what we need to do to be successful in the regular season and the post-season," said David. "As much as I would like to sit and reminisce about the good season we had, we are moving forward and will do so with a lot of new faces on the team this year."
There were holes to fill as the Brown Bears searched for the line-up for 2011-12. "We have filled some of the gaps, but we are going to have to become a lot better to compete in the West this season," remarked David. He stated that despite having some players selected for the team for their initial training camp currently underway, he may not be done with tinkering with the line-up. "It is just one of those things that has to be done. We got a taste if success last year and I want to now improve upon that. We start the regular season as early as anyone and it's against the defending champs. I want guys who are ready."
David remarked that a lot his tenders have worked out and are now on the roster, but the returners are going to have to be sharp from the start if Kenai wants to have success. It starts with forward Brett Lubanski, who may return as the top playmaker in the NAHL this season. A year ago Lubanski tied for 3rd in assists in the entire league with 48. He also played in the 2011 NAHL Top Prospects Tournament for Team West, which won the event. "This will be his 3rd year in the NAHL and 2nd year as captain, so I expect an even better season out of Brett this year," remarked David.
Other veterans expected to have an impact are Matt Thompson, Bobby Murphy and Sean Muller. They are all linemates and all had at least 30 points each last season. As for who will be behind everyone in goal this season, David would not divulge who what would be, but claimed he was going to "do whatever it takes to find the right #1 guy."
Clearly with the success in Kenai last year, times have changed for the Brown Bears, but now the key will be getting back to the playoffs, where they hope to get over another hurdle. If the past is any indication, the Brown Bears are headed that way, but Oliver David still believes there are some lingering questions heading into the 2011-12 season.
Next up in the NAHL's 28 teams in 28 days series, the Michigan Warriors.