50 Players, 50 Days: Alex Kesler
April 27, 2020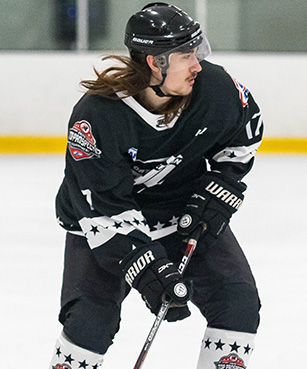 During the current and unforeseen cancelation of the 2019-20 season, the players in the NA3HL saw their seasons cut prematurely short. In some cases, players saw their junior hockey careers come to an end as well. However, the NA3HL got together a decided to highlight some of those players, who were born in 1999 and were in their final season of playing junior hockey.
As a result, we present a new series entitled: 50 players, 50 days
50 players in 50 days will select 50 players from each of the 34 NAHL teams this past season that were born in 1999, who are currently uncommitted, and deserve some recognition during their time spent playing and developing in the NA3HL. Over the course of the next 50 days, we will take time out to look at their accomplishments, review their season, and provide some background on their NA3HL careers. Players will be initially highlighted in alphabetical order by team. Enjoy!
Alex Kesler, Defenseman, Sheridan Hawks
Averaging a point-per-game across a season of junior hockey is tough enough, not to mention doing so from the blue line, but that's exactly what
Alex Kesler
of the Sheridan Hawks did during the 2019-20 campaign. Nearly tripling his 2018-19 offensive output, the 20-year-old ranked fifth in team scoring and seventh in scoring among all NA3HL defensemen this season as he helped Sheridan finish second in the Frontier Division.
Standing at 6-foot-2, 170 pounds, the native of Anchorage, AK put up 14 goals and 33 assists for 47 points in 47 games this season, building off of an eight-goal, 10-assist rookie campaign with the Breezy Point North Stars and Wisconsin Whalers (now Sheridan Hawks). And after a successful trip to the 2019 Top Prospects Tournament with the Central Division team -- during which he logged four assists in three games -- Kesler returned to the event in 2020 with the Frontier squad, posting another three helpers in three games. Capping off his season, he also scored in the Hawks' lone playoff tilt this season. Kesler concludes his career with 22 goals, 43 assists and 65 points in 92 games.
Kesler made the rounds in the Alaskan youth and high-school hockey circuits before joining the NA3HL. From 2014-16, he suited up for the Alaska Wolves 16U AA, playing 17 games and recording five assists. From there, he moved on to East Anchorage High for the 2016-17 season, where he played 15 games and posted two goals and two assists. And after returning to the Alaska Wolves -- this time at the 18U AA level -- for the 2017-18 season, where he played 10 games and nabbed a goal and three assists, Kesler made his NA3HL debut in 2018-19 for Breezy Point.