50 Players, 50 Days: Trevor Christopher
April 28, 2020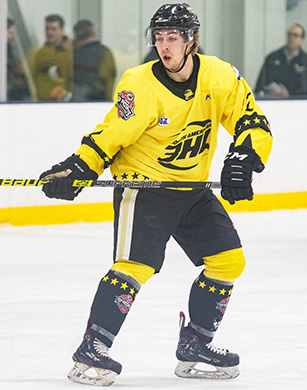 During the current and unforeseen cancelation of the 2019-20 season, the players in the NA3HL saw their seasons cut prematurely short. In some cases, players saw their junior hockey careers come to an end as well. However, the NA3HL got together a decided to highlight some of those players, who were born in 1999 and were in their final season of playing junior hockey.
As a result, we present a new series entitled: 50 players, 50 days
50 players in 50 days will select 50 players from each of the 34 NAHL teams this past season that were born in 1999, who are currently uncommitted, and deserve some recognition during their time spent playing and developing in the NA3HL. Over the course of the next 50 days, we will take time out to look at their accomplishments, review their season, and provide some background on their NA3HL careers. Players will be initially highlighted in alphabetical order by team. Enjoy!
Trevor Christopher, Defenseman, Skylands Kings
Skylands Kings defenseman
Trevor Christopher
, 20, capped off a remarkable two-year career with his second straight season averaging more than a point-per-game from the blue line en route to being named Northeast Division MVP and Defenseman of the Year for the 2019-20 season.
Christopher's offensive pedigree was clear during his rookie campaign -- the 5-foot-11, 175-pound native of Watertown, NY put up 20 goals and 32 assists in just 47 games -- but his sophomore season saw more development to the defensive side of things. While putting up another stunning 21 goals and 34 assists in 46 games, Christopher also improved his plus/minus from a -24 in year one to a +7 in 2019-20, while dropping his PIMs from 108 to 97.
Christopher's standout season earned him another bid to the Top Prospects Tournament in 2020, following his 2019 appearance at the event. In addition to his divisional award haul, Christopher was also named to the All-NA3HL Third Team for the 2019-20 season. He concludes his NA3HL career with 41 goals, 66 assists and 107 points in 93 games.
Christopher spent two seasons with the Ontario Hockey Academy 18U team from 2016-18, logging 51 games during two seasons and recording 18 points.