50 Players, 50 Days: Bryce Runyan
April 30, 2020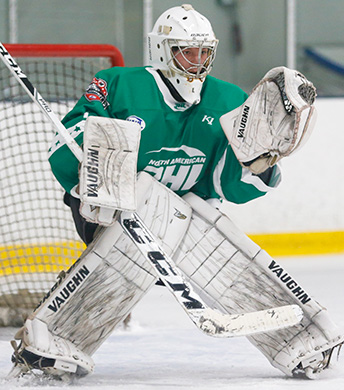 During the current and unforeseen cancelation of the 2019-20 season, the players in the NA3HL saw their seasons cut prematurely short. In some cases, players saw their junior hockey careers come to an end as well. However, the NA3HL got together a decided to highlight some of those players, who were born in 1999 and were in their final season of playing junior hockey.
As a result, we present a new series entitled: 50 players, 50 days
50 players in 50 days will select 50 players from each of the 34 NAHL teams this past season that were born in 1999, who are currently uncommitted, and deserve some recognition during their time spent playing and developing in the NA3HL. Over the course of the next 50 days, we will take time out to look at their accomplishments, review their season, and provide some background on their NA3HL careers. Players will be initially highlighted in alphabetical order by team. Enjoy!
Bryce Runyan, Goaltender, Texas Brahmas
Texas Brahmas netminder
Bryce Runyan
, 20, capped off a championship-caliber career with a remarkable 21-2-2 season and a second consecutive trip to the Top Prospects Tournament in 2019-20.
Standing 6-foot-2, 165-pounds, the Riverside, CA native was one half of a ferocious Texas goaltending tandem in 2018-19, sharing time in the crease with Thomas Held as the pair backstopped the Brahmas to a Fraser Cup Championship victory in 2019. Runyan went 14-2-1 that season, with a .921 save percentage and three shutouts during the regular season, followed by some incredible performances in Chicago at the 2019 Fraser Cup Championship, as he posted a .969 save percentage and 1.00 GAA en route to a perfect 3-0-0 record.
This season saw more of the same stingy play from Runyan, who put up a .924 save percentage and 1.87 GAA with a whopping six shutouts to help Texas to the League's best record in the regular season. Runyan's heroics between the pipes earned him Top Prospects bids in both 2019 and 2020, and he closes out his Junior hockey days with a 35-4-3 record in the crease.
Runyan plied his trade in the NAPHL before joining the Brahmas, making eight regular-season appearances for the Colorado Springs Tigers in 2017-18, going 3-3-1 with a .909 save percentage in the regular season, and a .977 save percentage to go with a 2-0-0 record in the 18U playoffs that year.