50 Players, 50 Days: Trevor Borlace
May 1, 2020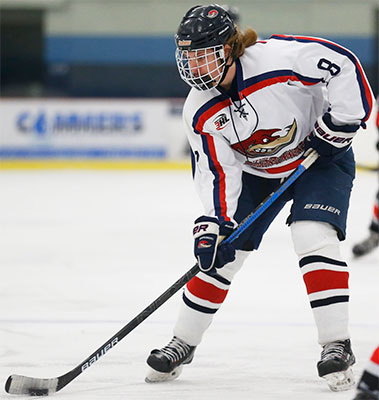 During the current and unforeseen cancelation of the 2019-20 season, the players in the NA3HL saw their seasons cut prematurely short. In some cases, players saw their junior hockey careers come to an end as well. However, the NA3HL got together a decided to highlight some of those players, who were born in 1999 and were in their final season of playing junior hockey.
As a result, we present a new series entitled: 50 players, 50 days
50 players in 50 days will select 50 players from each of the 34 NAHL teams this past season that were born in 1999, who are currently uncommitted, and deserve some recognition during their time spent playing and developing in the NA3HL. Over the course of the next 50 days, we will take time out to look at their accomplishments, review their season, and provide some background on their NA3HL careers. Players will be initially highlighted in alphabetical order by team. Enjoy!
Trevor Borlace, Forward, Texas RoadRunners
Following a successful rookie season with the College Station Spirit,
Trevor Borlace
, 21, returned to join the rebranded Texas RoadRunners for the 2019-20 campaign, serving as the team's leading scorer this season as he averaged just shy of a point-per-game.
Originally from Negaunee, MI, the 5-foot-10, 200-pound forward made an impact in year one in the league despite a disappointing year from a team standpoint, recording 15 goals and 10 assists for 25 points in 45 games with the last-place Spirit. This season, though, was a different story, thanks in part to the efforts of Borlace. He potted 20 goals, 22 assists and 42 points in 45 games to help the RoadRunners put up 11 more wins and 24 more points as they took big steps forward towards regaining relevance in the South Division. Borlace finishes his NA3HL career with 35 goals, 32 assists and 67 points in 90 games.
Borlace's days before the NA3HL were spent with the Ironwood Yoopers in 2016-17, where he recorded 15 points in 16 games. He moved on to the Dallas Snipers in 2017-18, posting 15 goals and 18 assists in 48 games, before finding a home in College Station for the last two seasons.